*This post may contain affiliate links. As an Amazon Associate we earn from qualifying purchases.
You never know when an accident will happen. A Garmin Dash Cam 10 could be a good measure against legal struggles following a crash. In a case of your word against a stranger's, video evidence will tip the scales in your favor.
Big name brands do cost more, which is why looking at an older model is a good idea. They've been around the block, and you can usually get more feedback from users. Garmin has a great reputation, but they have some competition.
Comparison Table
[amazon box="B00HSFWZA8,B07F8YQSNH,B075SPLQ1V,B00U0OJMYG,B00HFMN40O" template="table"]
What Is the Garmin Dash Cam 10?
[amazon box="B00HSFWZA8″]
The Garmin Dash Cam 10 is one of Garmin's older dash cams. Although it has a few years behind it now, the features are nothing to scoff at. It has all the basics and is easy to use. You install it with a simple suction cup mount and plug in the vehicle power cable.
Compared to cheaper dash cams, it still has a clear advantage in video quality. It comes with a four gigabyte (GB) microSD card for video storage, and you can use a bigger one up to 32GB. While it's not the most complete dash cam, the Garmin Dash Cam 10 still makes a viable entry-level option for those who need good quality on smaller budgets. At least if you buy one used.
Garmin Dashcam 10 Features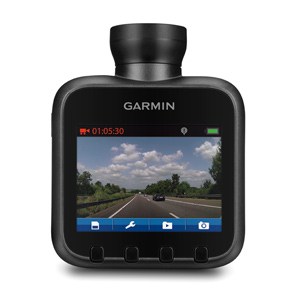 The simple Garmin Dash Cam 10 provides continuous recording, impact detection, snapshots, and basic controls. The continuous recording means that when the memory card is full, it starts overwriting the oldest footage.
A key feature is the G-sensor. When something rustles the G-sensor enough, the Garmin Dash Cam 10 automatically saves footage to a special folder that won't get overwritten. If you need evidence for a lawsuit or insurance claim, this is a godsend. You can adjust its sensitivity to avoid false positives. There's a quick button for manually protecting bits of footage from overwriting. You can also detach the Garmin Dash Cam 10 and use it to take photos of anything relevant.
One feature you may miss is a global positioning system (GPS). The Garmin Dash Cam 10 can't geotag your footage, and you can't use it to track a stolen vehicle. It only covers the basics. You can view detailed specs here and the user manual here.
Performance
Garmin Dash Cam 10 records in 1080p at 30 frames per second (fps), and it records audio. You can lower the video resolution to 720p, but there's no real reason to do so. Being an old, discontinued model, it doesn't offer the same video clarity as newer models and competitors. However, compared to budget dash cams, it has a leg up. It has a night mode for better footage in low-light conditions. Its 180-degree wide-angle lens is better than much of the competition. You can see what goes on in other lanes. Not all collisions are head-on crashes, so this is an important feature.
Navigating the functions is as simple as it gets. You have four buttons, and clear on-screen icons and menus that show you what each one does.
The Garmin Dash Cam 10 only stores footage in Audio Video Interleave (AVI) format. Windows users have no reason for concern, but Macs and other systems can't do anything with the files unless you download conversion software.
Newer models
Multiple models have hit the market since the Garmin Dash Cam 10 was new. The more recent Dash Cam 45, 55, and 65W are the ones worth considering. The 65W is the clear winner among them. It's the most advanced, and it costs about the same as a Garmin Dash Cam 10. Plus, you can control it with your voice.
While it offers the same video resolution and field of view, the updated electronics improved video quality. The same is true for nighttime performance. It also has a Travelapse feature for making time-lapse and highlights for keeping or sharing. You can sync the dash cam footage with your smartphone or tablet if you download the free VIRB app.
The built-in GPS provides many functions. For one, it adds your coordinates to the footage, and the videos have automatic stamps with the date, time, speed, and direction of travel.
Furthermore, the Garmin Dash Cam 65W has a few additional safety features. There's the forward collision warning, warning you about getting too close to the car ahead. If you're standing still at an intersection and the car ahead starts moving, you'll get a go alert. You also get lane departure warnings, in case you stray from your lane. The 65W can also alert you about red light and speed cameras in the surrounding area, as long as you subscribe to the service and update often.
Also, there's a parking mode. While parked, a motion detector will activate the dash cam if something suspicious happens, but you need an additional cable for this. 
How We Reviewed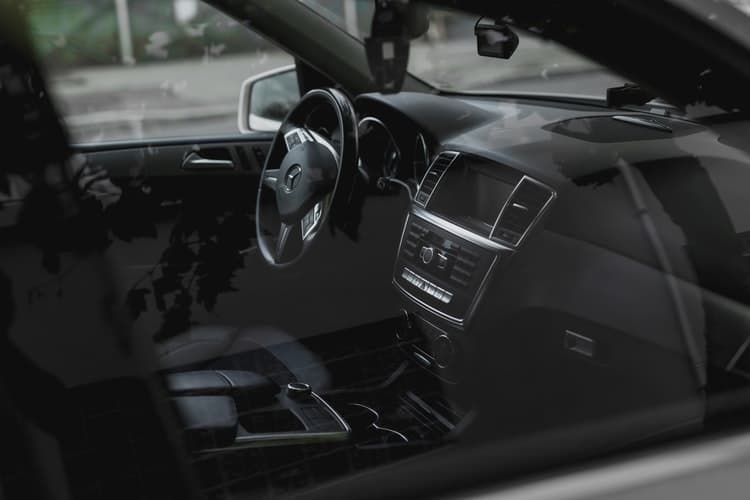 All opinions presented come from online user reports, such as Amazon customer reviews. We've analyzed and compared a large number to give you a good idea of what people think. All technical data comes from the manufacturer's websites.
Garmin Dash Cam 10 Standalone Driving Recorder
How Garmin Dash Cam 10 Compares to Other Alternatives
Since Garmin is one of many high-quality brands, it wouldn't be fair to only compare the Garmin Dash Cam 10 to one of its sequels. Therefore, we'll include some comparisons against competitors.
[amazon link="B07F8YQSNH" title="Nextbase 212 Lite 1080p Full HD DVR Dashboard Digital Driving Video Recorder in Car Dash Camera"]
[amazon box="B07F8YQSNH"]
Here's the toughest competitor, the star of Nextbase's roster. Not long ago, high definition (HD) resolution was the big goal for dash cams. Now, you're looking at one that offers a 4K resolution. If maximum detail is what you seek, here's a promising candidate. And it seems robust enough too.
Ease of use
It attaches to a slide socket on a suction cup windshield mount. What stands out is how the cables connect to the mount, so detaching and attaching the cam is quick and effortless. You can also use a mount with 3M tape if suction isn't enough.
The Nextbase 612GW has a touch screen for easy operation, with obvious icons and simple menus. Other than the power button, the only button it has is the one for manually locking footage.
Features
Its core feature is an 8.57-megapixel Sony Exmor R CMOS sensor. The reflection free lens doesn't offer as much width, only 150 degrees. However, this is still wide, and it also means less distortion and more accurate distances.
The standard 8GB card can't store more than 23 minutes of 4K video, so you'll want a bigger one, and it must be a Class 10 U3 card. 64GB cards of that quality will cost a pretty penny, but if you need reliable 4K dash cam footage, that's what it takes.
The Nextbase 612GW has a parking mode, a G-sensor, and GPS with automatic logging of location and speed. It's also WiFi-enabled and able to sync with a smartphone app. It doesn't have alerts for lane departures, red lights, or anything of the sort.
Performance
It records 4K footage at 30 fps, with a quick 46 megabits per second (Mbps) data speed. That means no horrid compression artifacts. This high level of video quality means you can see fine details like passing license plates even at decent speeds. You can reduce the resolution to 1440p or 1080p if you wish, and you can get 60 fps in those resolutions. The cam also records a parallel low-quality video at a 768×432 resolution.
You can decide whether the 612GW stamps the videos with your driving speed and license plate. Other things you can adjust are exposure and the length of each video file. In addition to the normal parking mode, you can also use a time-lapse mode where the camera snaps an image in 3-minute or 30-minute intervals.
[amazon link="B075SPLQ1V" title="Thinkware F800 PRO 2-Channel Bundle 1080P FHD WiFi Rearview Camera"]
[amazon box="B075SPLQ1V"]
Thinkware's F800 Pro builds upon the success of the F770. While the 612GW focuses on the resolution, the F800 Pro prioritizes useful features and even incorporates cloud services. What's more, this particular edition comes with a rear camera. And it doesn't cost that much more than a Garmin Dash Cam 10.
Ease of use
You have to use a smartphone for the display because there isn't one. That can be inconvenient. Furthermore, it's not as easy to take out and put back into the mount as the Garmin Dash Cam 10. You can choose between a cigarette lighter cable or a permanent connection kit, so it's more compatible with GPS navigators and other car devices. Configuring the software can be tricky without detailed instructions.
Features
The F800 Pro uses a 1/2.8 Exmor R complementary metal-oxide semiconductor (CMOS) 2.13-megapixel sensor and a 140-degree lens. That's enough for high clarity in Full HD. You can get around 200 hours of footage from each camera onto the included 32GB microSD card before it loops. When the device boots up, it'll tell you that it's ready to connect to WiFi via your smartphone.
On the underside, you'll find five buttons. The middle one is for manual video locking. One of the surrounding ones is the main power switch, one toggles audio uptake, one toggles WiFi, and one formats the SD card.
The two cameras mount with adhesive patches, and a long cable connects the two. You can tilt the front camera to get a perfect angle.
Performance
The F800 Pro records at 30 fps and 10Mbps. It uses high contrast, only applies gentle compression, and preserves great detail. You can read signs and license plates with ease. The rear camera produces the same video quality. Unlike the Garmin Dash Cam 10, the F800 Pro can't snap photos.
It has the usual GPS, G-sensor, and a parking mode that also responds to impact. The Thinkware will also alert you to safety camera sites, including mobile zones. Like the 65W, it gives alerts about forward collisions, lane departure, and front vehicle departure. You can adjust the sensitivity for some alerts.
The real signature function is the cloud service. For example, these functions can help you find your vehicle in huge parking lots or let you know if something's happened to your car when you're not around. You can geofence an area and get notifications whenever your F800 Pro-equipped vehicle leaves it.
[amazon link="B00U0OJMYG" title="Street Guardian SG9665GC v3 Edition Dash Cam"]
[amazon box="B00U0OJMYG"]
It's small, simple, and discreet behind your rearview mirror. It has a lot in common with the Garmin Dash Cam 10. However, it has more modern specs and features. It's a stealthy dash cam, and it comes with a 32GB card.
Ease of use
Some users say that mounting it isn't very intuitive and that the quick start guide doesn't help much. You can find a better manual here. The buttons have no labels, so you'll have to familiarize yourself with them. Other than that, it's a straightforward dash cam.
Features
Those of you who live in hot places should pay extra attention to this one because it's adapted for hot climates. With its metal lens assembly and supercapacitor, it can withstand the conditions in a car you've left out all day in the scorching sunlight.
The Street Guardian has a Sony IMX322 CMOS sensor and a Novatek 96655 processor. Add to this a 140-degree, 7-element lens with glare reduction. Its new recording components do away with the slight issues earlier versions had in low-light conditions. You get clear video at all times of day, in all common weathers.
It has GPS functionality and a G-sensor, but no WiFi or advanced driving assistance systems. One cool thing is that it can take SD cards up to 256GB. That's almost 40 hours of full HD video.
Performance
You get 30fps full HD video. The included circular polarizing (CPL) filter helps deal with reflections. Its biggest strength is clarity at night.
It logs videos with full GPS information, and it stays powered for a long time. There aren't many functions, but what it does, it does with flying colors.
Pros & Cons
It's not easy to memorize all of the good and the bad, so let's round up the key insights about the Garmin Dash Cam 10.
Pros
Garmin quality

Full HD video

G-sensor

Includes microSD card
Cons
Outdated product

AVI video only
Should You Buy a Garmin Dash Cam 10?
The Garmin isn't a bad dash cam by any means. If you've found one for a good price, it's a worthy choice as long as you're content with the very basics. If you want more features and better video quality, you'll enjoy a newer option like the 65W.