*This post may contain affiliate links. As an Amazon Associate we earn from qualifying purchases.
How much money do we dump into washing our cars? On average, people can spend anywhere from $ to $$$ per year. It all depends how much you are willing to spend on car washes and detailing. You can save a bundle of money by cleaning the car yourself, but we don't always have time. However, washing your car a few times a year is a good idea because it's an important part of maintenance and helps prevent rust. Experts highly recommend that you wash your car every two weeks. Unfortunately, it's also safe to say most of us are lucky if we make time to wash our cars every few months. Let alone every few weeks! But a Subaru pressure washer might be just the thing for the job.
There are lots of pressure washers on the market and having so many options can make any decision difficult. My husband has been on the prowl for a pressure washer recently. Not only for washing the cars, but also for cleaning oil stains off the driveway. Some car companies make pressure washers, such as Subaru, Honda, Ford, and Yamaha. At the moment I'm the most interested in a Subaru pressure washer because that's the one my husband has been talking about. It might just end up being the next tool in his garage!
Comparison Table
Product

Details

Rating

Price

Black Max 2700 PSI Subaru Pressure Washer

Gas powered175cc Subaru engine
2.3 GPM25-foot hose
12-inch wheels
52 pounds
One-gallon detergent tank
Four nozzles (Soap, 0-degree, 25-degree, and 40-degree)
Three-year warranty

4.3 out of 5.0

Rigid 3300 Subaru Pressure Washer

Gas powered211cc Subaru engine
Professional grade CAT pump
30-foot hose
360-degree swivel handle
Five interchangeable nozzles (0-degree, 15-degree, 25-degree, 40-degree, and soap nozzle)
65 pounds
Three-year warranty

4.1 out of 5.0

Powerstroke 3100 Subaru Pressure Washer

Gas powered
212cc Subaru engine
2.5 GPM
Four nozzles
1-gallon detergent tank
25-foot hose
Holds 0.66 gallons of fuel
63.1 pounds
Two-year warranty

3.9 out of 5.0
[amazon box="B00CPGMUXW,B00IPEE6T4,B01BMETJAY" template="table"]
What to Consider Before Buying a Subaru Pressure Washer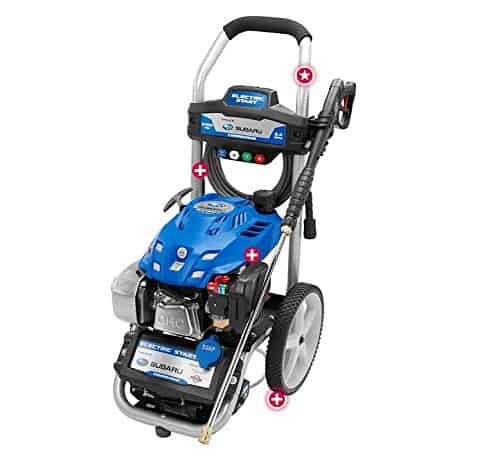 First, you need to figure out what you want to use your pressure washer for. They might seem like an unnecessary extra tool to some people. I can understand that if you live in the city or don't have much storage space for extra tools. But they're so useful and can come in handy if you have the space for them. You can use them around the garage to wash your cars, the driveway, or even car parts. It definitely would have come in handy when I was cleaning caked-on oil off parts for my truck.
You can also use it to clean off your patio so that it isn't slippery — right along with dirty outdoor furniture, windows, or the sides of any building. The uses are endless, and it would come in handy if you have your own home. It will make cleaning up outside much easier! But always remember to be careful when using the different nozzles. Pressure washers can tear through paint, bite into wood, and break glass if you aren't cautious. It can also cause injuries if you aren't careful around bystanders — just something to keep in mind.
The Difference Between These Powerwashers
When it comes to pressure washers, you need to decide whether you want a gas or electric powered unit. An electrically powered pressure washer is generally cheaper and needs less maintenance. But you will have to find a convenient place to plug it in or run extension cords.
Gas-powered unit

Take it anywhere

No need to plug it in

Keep enough gas and oil

Electric-powered unit

Cheaper

Less maintenance

Find a place to plug it in
A gas powered pressure washer is convenient in its own way because you can take it anywhere and you never need to worry about plugging it in. But you will have to make sure you keep enough gas and oil on hand to properly fuel and maintain your device. That isn't much of an issue normally because any good pressure washer with the right nozzle will get the job done quickly! If you'd like to learn more about picking the right pressure washer you could check out a buying guide to figure out what will work best for you.
1. Black Max 2700 PSI Subaru Pressure Washer
[amazon fields="B01FKILJN8″ value="thumb" image_size="large" image_align="center"]
If you're on the lookout for a good gas-powered pressure washer for beginners, the Black Max 2700 Subaru pressure washer could be perfect for you. It is easy to assemble, holds great pressure, and has everything you need. The 2700 PSI is considered a moderate strength for a pressure washer that will get any dirty job done around your house with ease. You can use it on anything from your fragile outside windows to a brick wall or driveway.
You can also find this product for a reasonable price at about $$ to $$ . Typical gas powered pressure washers can be found for $$ to $$$ at this level of PSI.
Specifications and features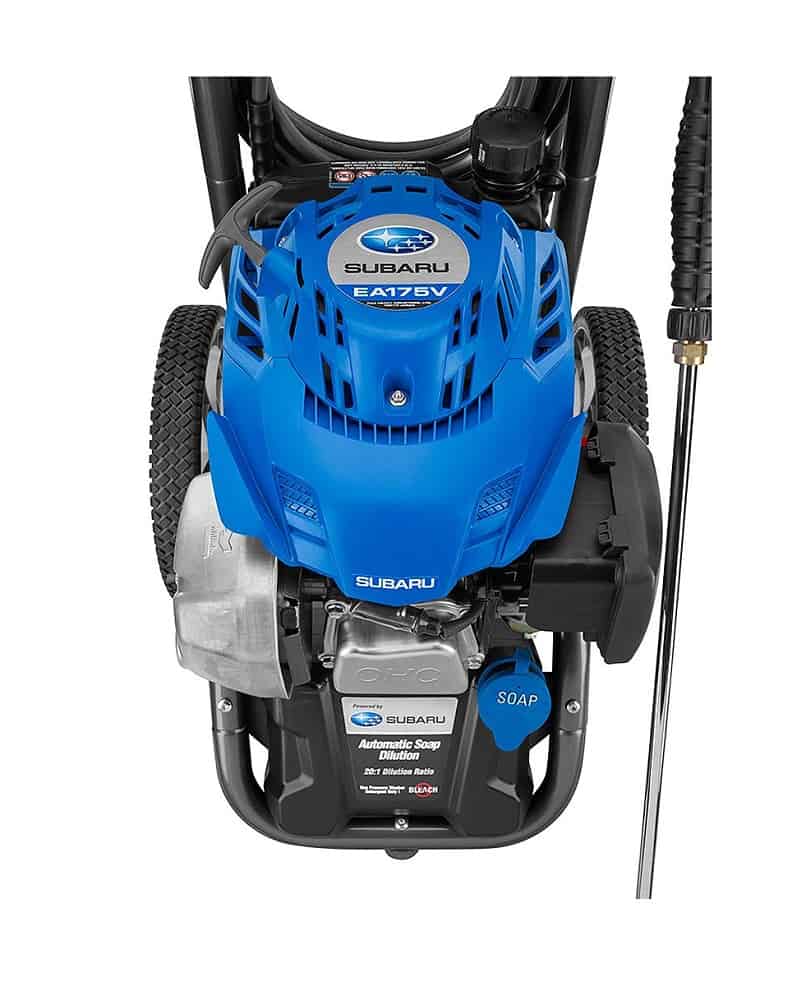 The Black Max is a very capable gas powered pressure washer with a durable 175cc Subaru engine that puts out 2.3 GPM. It comes with a 25-foot hose for a good reach, and the 12-inch wheels will make it easy to roll around for any job. They will certainly come in handy considering it weighs in at 52 pounds.
There is a one-gallon detergent tank that makes cleaning cars simple. All you have to do is use the soap nozzle. There are also four convenient nozzles that come with this model, including the 0-degree, 25-degree, 40-degree, and a soap nozzle. They are easy to switch but make sure to read instructions on how to properly change the nozzles. It also comes with a three-year warranty, so if you have any issues, it is easy to exchange.
Customer reviews and rating
Customers were pleased with the simplicity of this Subaru pressure washer. They loved that it can be shipped to their door, easily assembled, and ready to go in no time at all! It holds great pressure and the nozzles are perfect for various jobs around the house. The gas engine and lack of a power cord make pressure washing simple.
After looking over the low-star reviews, it did seem like most displeased customers were having difficulty running this machine. It can be difficult when you're trying to start it on a hot day, but by no means impossible.
Most people were very pleased with this device and gave the Black Max 2700 Subaru pressure washer a 4.3 out of 5.0 stars.
2. Rigid 3300 Subaru Pressure Washer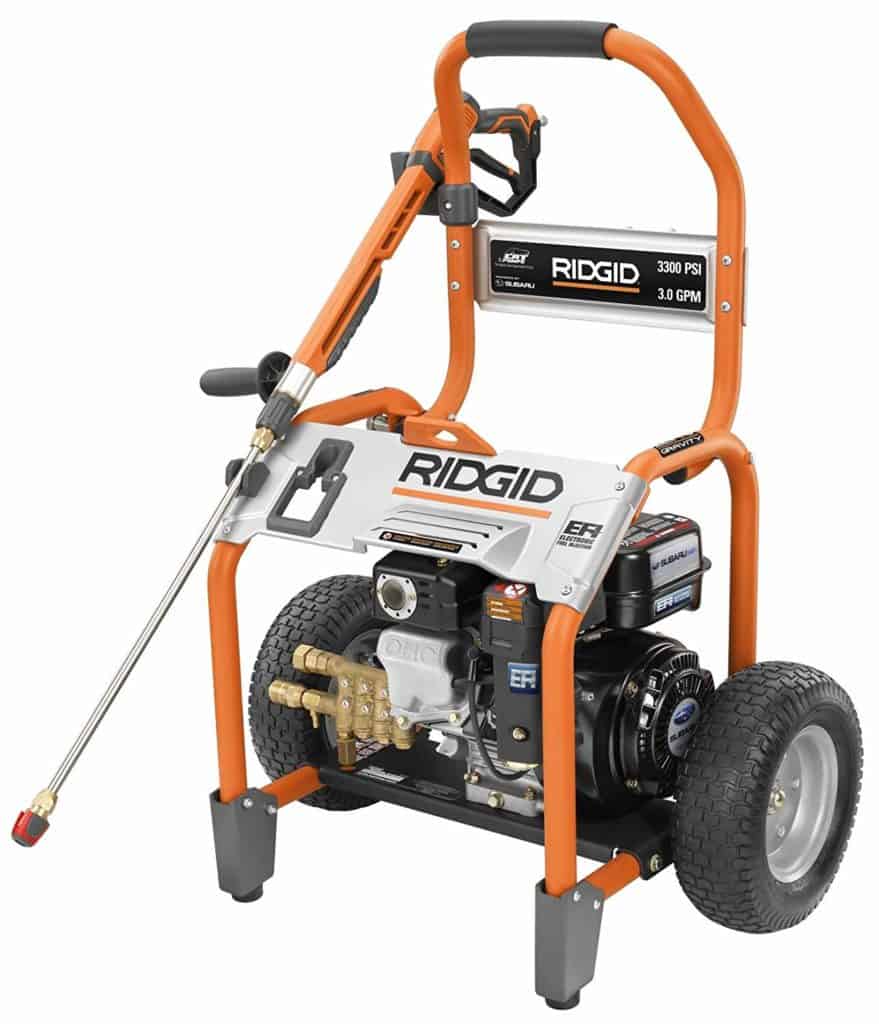 If you are looking for extra power or upgrading your current pressure washer, the Rigid 3300 Subaru pressure washer is perfect. The main thing that isn't so perfect about this model is the price. You can find this product for about $$$ to $$$. So I would recommend it for more experienced users, especially since it packs a punch with 3300 PSI and 3.0 GPM. It produces a more professional level of power. The extra pressure would make it perfect for a home business or cutting through some serious grime.
Specifications and features
The Rigid 3300 is gas powered by a 211cc Subaru engine that holds nearly a gallon of fuel for a longer running time. It has a professional grade CAT pump and a 30-foot hose with a 360-degree swivel handle for easy use. The three-year warranty also applies to this device.
It includes five interchangeable nozzles. With this model, you receive a 0-degree, 15-degree, 25-degree, 40-degree, and a soap nozzle. Luckily, this Subaru pressure washer has wheels as well for easy transportation and is even heavier at 65 pounds.
Customer reviews and rating
Most customers loved the Rigid 3300 Subaru pressure washer because it is a professional grade tool. But they weren't so in love with the professional price. Either way, they highly recommended this model for tough jobs.
Overall it got a good rating of 4.1 out of 5.0 stars.
3. Powerstroke 3100 Subaru Pressure Washer
[amazon fields="B00XU7837M" value="thumb" image_size="large" image_align="center"]
Out of these three models, the Powerstroke 3100 Subaru pressure washer is by far the most common. It is powerful enough for tough jobs and will do wonders around your garage. It also happens to be the model my husband was the most interested in. Mainly because it generates good pressure and would be perfect for cleaning oil stains off our driveway. It also would help remove plasti-dip off his wheels.
The Powerstroke 3100 Subaru pressure washer is a reasonable price for a gas-powered unit at about $$ to $$.
Specifications and features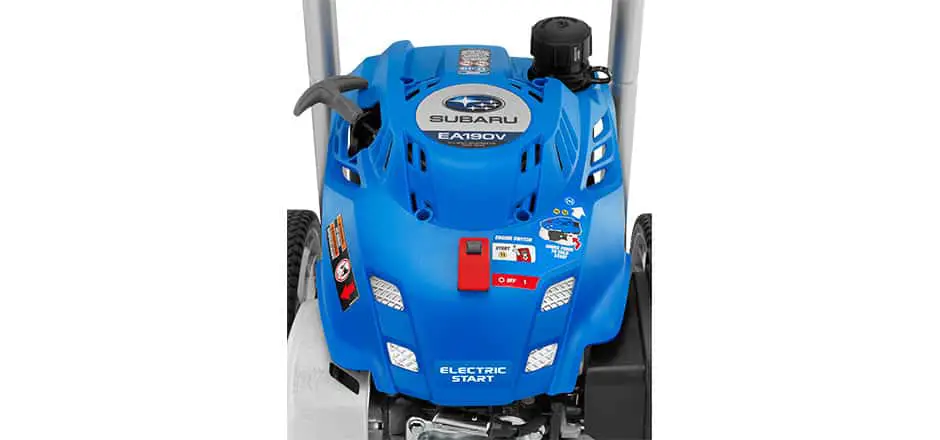 The 212cc Subaru engine puts out 2.5 GPM for easy cleanup and plenty of power. It also comes with the same four nozzles as the Black Max, includes a 1-gallon detergent tank, and a 25-foot hose. This Powerstroke model can hold about 0.66 gallons of fuel, which should get you through simple jobs with ease. It has wheels for simple transportation and weighs in at about 63.1 pounds. There is a two-year warranty included with this unit, so it can go back if there are any issues.
Customer reviews and rating
One great thing about this Subaru pressure washer is the fact that it's available at Walmart. That is also what makes this model much more common than the other two. It is also very easy to assemble, made for easy storage, and good for new users. Starting this machine up is simple, the pressure is good, and it has a trigger handle that customers liked.
The main thing customers did not like about this pressure washer was the fact that the attachments for the hose and sprayer are in an awkward position. It can make it difficult to roll around while they are attached.
The Powerstroke 3100 Subaru pressure washer got an overall rating of 3.9 of 5.0 stars.
How Does and Subaru Pressure Washer Hold up to the Competition?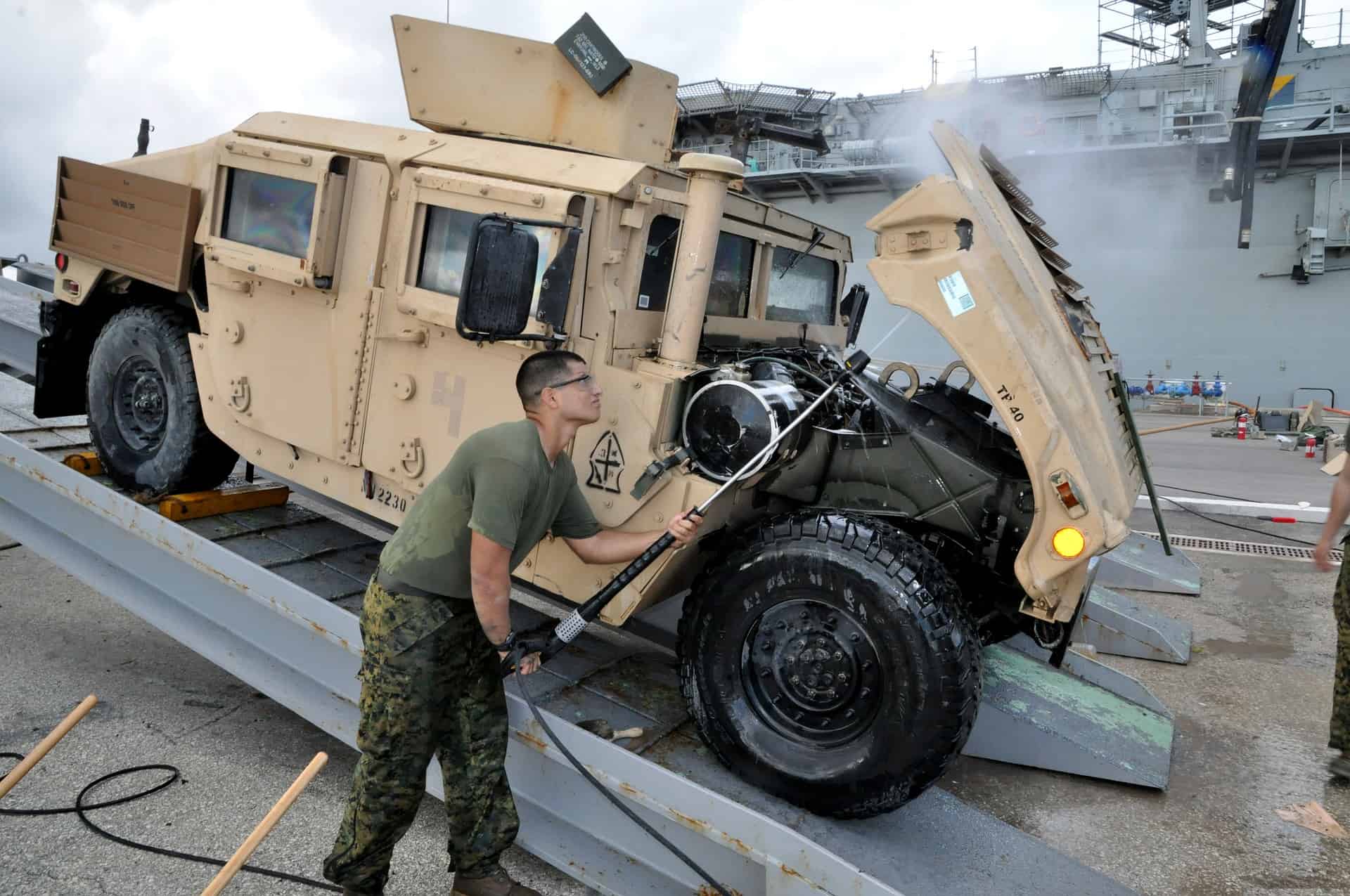 The main thing you might notice about the Subaru pressure washer options in comparison to the competition is the fact that the former all rely on gas. But with a Subaru engine, there is no way around this. The perk is the power you get from the durable Subaru engines and the drawback is the fact that these gas engines aren't the quietest. They also typically have a higher price tag.
But in terms of performance, they are top notch machines in the right hands. There is always a learning curve to a gas-powered pressure washer if you have never used one before. They aren't hard to use, but make sure to check out your instruction manual before firing it up. You will need to make sure it has fuel, oil, and is set up properly before use.
How We Reviewed These Powerwashers
These items are not in any particular order. It is not a best-to-worst kind of review. Our goal is to give you the best information we can about these products so you can determine whether they might be right for you. But we aren't here to sell you anything.
The star ratings of these devices came from the websites where you can buy each separate unit. They are not all widely available, so they can be difficult to track down. But we always want to let you know what real customers thought about their pressure washers.
[amazon link="B00CPGMUXW" title="1. Sun Joe SPX3000 Pressure Washer"/]
[amazon box="B00CPGMUXW"]
If you want a simpler electric powered pressure washer, you might prefer the Sun Joe SPX3​​000. It is a customer favorite that puts out 2030 PSI, 1.76 GPM, and comes with a 20-foot hose and 5 nozzles, just like the Rigid 3300 Subaru pressure washer.
While it isn't a very powerful pressure washer in comparison to the other options, it will still get the job done and has its own perks. The SPX3000 is a much lighter device, at about 31 pounds, it also can be maneuvered with its wheels. There is also a Total Stop System (TSS) that stops the pump when the trigger isn't engaged, which will save the pump from wearing out.
You can find the Sun Joe SPX3000 for an excellent price of about $$ to $$, and it comes with a two-year warranty. It has an overall customer rating of 4.2 out of 5.0 stars.
[amazon link="B00IPEE6T4″ title="2. Ford FPWG2700H-J Pressure Washer"/]
[amazon box="B00IPEE6T4″]
If you aren't sure about the other gas pressure washers, you might want to consider the Ford FPWG2700H-J. It's a heavy duty machine that weighs 71 pounds but also has convenient wheels for mobility t`hat also look like Ford chrome rims. Powered by a 180cc Ford engine, this unit puts out 2700 PSI and 2.3 GPM. It also comes with five interchangeable sprayer nozzles.
If you're looking for a gas powered pressure washer for big jobs, this Ford model is easily comparable with a Subaru pressure washer. It can find it for around $$ to $$, with a two-year warranty included.
Customers gave this device a solid rating of 4.2 out of 5.0 stars.
[amazon link="B01BMETJAY" title="3. Karcher K2 Plus Electric Power Pressure Washer "/]
[amazon box="B01BMETJAY"]
Most of us might be hesitantly buying a pressure washer. Do you really need one? If you aren't so sure it's worth all the money for a few small jobs, you might be interested in the Karcher  K2 Plus. It is an electric pressure washer that is available for an extremely affordable price of around $80 to $90 with a two-year warranty.
It is a much simpler unit that makes 1600 PSI, puts out 1.25 GPM and only weighs 16.8 pounds. It's perfect for basic jobs like clseaning off outdoor furniture or your car. It also has a 20-foot hose and a 35-foot power cord.
While this only gets a rating of 3.8 out of 5.0 stars, you can't beat the price and simplicity of this model. It is perfect for day-to-day jobs and regular cleanings.
Subaru Pressure Washer Pros and Cons
It can be beneficial to weigh the good and bad aspects of any device. So we like to include a pros and cons section, which you can find below.
Pros
Perfect for tough jobs

Highly transportable gas engines

Come with all the nozzles you will need
Cons
Require careful maintenance

Will need to refuel often for big jobs

More expensive than most electric units
Is a Subaru Pressure Washer Right for You?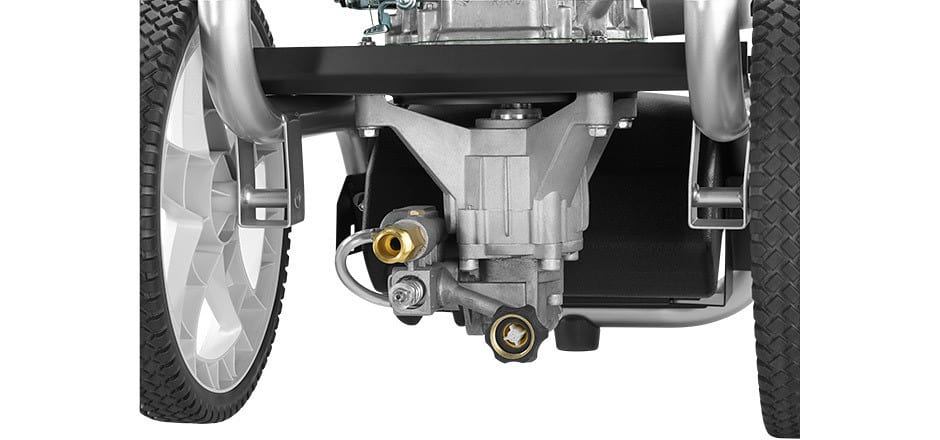 The truth is, the average price of renting a pressure washer for a day is between $ to $$. So if you have to do this often, or even on a yearly basis, buying your own unit is the cheaper option. It makes most cleaning jobs much easier, especially if you like to clean salt off your car in the wintertime. It's way too cold to get out there with a bucket and a hose, and most people choose not to spend the extra money at a car wash. Whatever your reason is for wanting a pressure washer, I'm hoping we were able to help you find a good model. Or at least give you good information.
The truth is, most people prefer gas-powered pressure washers. It's a big perk with the Subaru pressure washers. They have good power, come at various price points, and are durable and reliable. But you should only consider it if you're willing to put a bit of time into maintenance. In the end, it comes down to what you are looking for in a pressure washer.
Do you have any experience with Subaru pressure washers? Maybe you have another favorite brand. If you do, we would love to hear about your experience in the comment section below!