*This post may contain affiliate links. As an Amazon Associate we earn from qualifying purchases.
The Sanborn company has been making air compressors since the 1960s, but it isn't a brand a lot of people are familiar with. Maybe one reason for that is Sanborn does not sell their air compressors on Amazon, where there are certainly a lot of other brands to be seen and tried out.
Before we answer what the Sanborn air compressor is and what it is good for—specifically what is this particular Sanborn air compressor good for—let's answer a more general question for readers who may not be familiar with air compressors as a class of industrial equipment.
Comparison Table
[amazon box="B01M2XPBZH,B07BSXV8SX,B002MKP5JM," template="table"]
What Is an Air Compressor?
It turns out having air stored under pressure (say in a storage tank) can be useful to do all kinds of work, because the stored air is potential energy that has been transferred to the tank by the kinetic energy required to compress the air. When that stored air is released—especially in a controlled stream—it can do lots of handy things.
Here are just a few kinds of tools that can be powered with compressed air:
Nail guns

Air hammers

Paint sprayers

Blasters

Sanders
Not every air compressor will be able to supply the power, or volume, of controlled compressed air flow required for every type or model of tool. For example, while lots of relatively small and even cordless, air compressors can power one or two nail guns, even the Sanborn 30-gallon air compressor is not recommended for some tools (like most sanders) that require more CFM—cubic feet per minute—the metric used to measure airflow.
One thing these varying power requirements impact is the portability of an air compressor.
Why is portability important? Let's see.
A Portable Question
So, the Sanborn air compressor is a 30-gallon model that calls itself a "portable". What does that really mean?
We will look at the product features and specs in more detail just below here, but the Sanborn is able to deliver a decent amount of airflow and a useful runtime, and it does this because it has a much larger tank than smaller air compressors weighing a fraction of the Sanborn air compressor. The Sanborn weighs 165 pounds.
What "portable" really means in air compressor units is either that they are very small with a carrying handle, and so come with significant limits on power and application, or that they are large and heavy but have wheels.
One-Stage versus Two-Stage Air Compressors
Another distinguishing feature in air compressors is whether they are one-stage or two-stage compressors.
A one-stage unit compresses the air in only one process. Even though the air compressor might use dual cylinders, they work together to compress the ambient air drawn into the unit in just one period of compression. After this the compressed air will be stored in the reservoir (storage tank).
A two-stage air compressor will perform a relatively low-pressure first stage compression on the ambient air, and then it will cool that air before sending it through a second round or stage of compression. Again, the heated air will be cooled and dried and then sent to the tank for use. Because the air is compressed twice, the two-stage compression process is capable of achieving much higher air pressures than one-stage compressors.
The Sanborn air compressor is a one-stage or single-stage compressor.
Product Specs
The Sanborn air compressor, specifically the 30-gallon model we are examining here, offers a V-twin-cylinder one-stage compressor powered by a heavy-duty induction motor. It has a maximum air pressure of 155psi. The unit stands 49 inches tall overall.
The air flow achieved with this unit from the compressed air is 6.3CFM at 40psi, and 5.5CFM at 90psi (roughly the expected output for the power rating of the motor). Note that tools need sufficient pressure, or psi, to properly function, but they also need a good volume of air flow, or CFM.
A CFM of 5.5 is sufficient to run lots of different small tools, such as nailers and ratchets, but even smaller sanders will put it to the test. The Sanborn air compressor comes with a handy recommended tools label right on the front of the tank, and you should refer to this before trying the Sanborn on tools that require a lot of CFM.
The Sanborn is lubricated with synthetic oil, which you will need to keep topped off and periodically replace to keep your air compressor running smoothly. The Sanborn's motor can be powered by either 120v or 240v electrical currents.
Finally, at 78 decibels, the Sanborn air compressor is very loud. If you have neighbors, and unless you work in a soundproofed garage, they will likely hear this device, so bear that in mind when choosing when to use it.
How It Compares
We picked a few similar products available on the market to see how they compare.
Sanborn Belt Drive 30-Gallon Portable Electric Vertical Air Compressor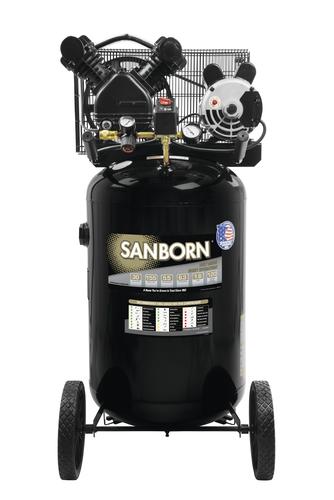 Ease of Use      
The main issue regarding ease of use for this unit is the lack of sufficiently large handles for moving the air compressor about, so it isn't as easily portable as it should be. Otherwise, the use of the product is pretty straightforward for this size of air compressor. Generally, oil lubricated motors require a bit more maintenance, but they generate more power.
Common Uses  
When users move up to this size of air compressor and storage tank they are looking for more power and longer run times for their tools. The Sanborn provides plenty of power for most small tools, so most air-powered nailers, ratchets, and lower-powered paint guns should have no problem. Typically, a one-stage unit like this is designed for home workshops and not for larger commercial operations.
Design Quality  
This is a well-built, durable product, that delivers sufficient air-flow to power smaller tools. Built to supply the needs of the DIY, home workshop market, the Sanborn is neither industrial strength when it comes to portability nor is its single-stage motor capable of producing sufficient air flow to handle more demanding tools and jobs. Some users complain it is a little underpowered compared to similarly priced competition, but in our comparison, that isn't the case.
Warranty
Two-year limited warranty.
Pros
Well-built and durable

Good mainly for lower-power tools
Cons
Portability is not the best
Campbell Hausfeld DC260000
[amazon box="B01M2XPBZH"]
The Campbell Hausfeld DC260000 is, according to the manufacturer, "designed for the DIY enthusiast or weekend warrior", which tells you the product is likely not aimed for someone needing more power!
Price
Unlike the Sanborn air compressor, the Campbell Hausfeld DC260000 is available at Amazon.
Ease of Use      
On the good side of things, the DC260000 does not require much maintenance. It is oil-free, and its smaller size and weight make it easier to move around. On the bad side of things, the motor is loud at 88 decibels.
Common Uses  
Campbell Hausfeld recommends the DC260000 for light applications. More demanding jobs can be attempted with 4CFM at 90psi, but the unit is going to be limited in the size of tools and projects it can power.
Design Quality  
Lower cost usually means cost-cutting in some aspect of a tool. In the Campbell Hausfeld DC260000 they have made a simpler, lower-powered unit that will be fine for "weekend warriors" but may be underpowered for DIYs looking to take it to the next level.
Warranty
One-year limited warranty.
Pros
Relatively inexpensive

OK for small jobs
Cons
Air flow is less than Sanborn

At 88 decibels this unit is very loud
DEWALT DXCM271.COM 27 Gal. 200 PSI Portable Air Compressor
[amazon box="B07BSXV8SX"]
This one-stage, oil-free, vertical portable air compressor can deliver up to 200psi, and much longer run times than units with similar maximum air pressure. While this is still primarily a product aimed at the DIY or home user, it provides enough power so that those with lighter industrial applications might find it useful.
Ease of Use      
Oil-free operation is a good thing. Another good thing is that, unlike the Sanborn, the DEWALT DXCM271 is constructed with true portability in mind. Not only is its frame durable enough to get it across a shop floor, but its strong steel handles provide a user with enough leverage to control moving the unit even in workspaces that have uneven surfaces.
Common Uses  
Not only does the manufacture say this air compressor can handle the usual range of small tool applications—nailers and the like—but it claims it "can handle normal automotive maintenance repairs, spray painting, and other large projects."
Design Quality  
The 200psi rating for the DeWalt DXCM271 is impressive (especially for a single-stage compressor), but the air flow rating at 5.1 SCFM at 90 PSI means the DXCM271 isn't delivering the same air flow as the Sanborn. Further the DeWalt tank is a bit smaller: and all that for a higher price.
Warranty
One-year limited warranty.
Pros
Real portability

Good power and high psi
Cons
Expensive

Less air flow power than the Sanborn
Industrial Air ILA1883054 30-Gallon Belt Driven Air Compressor
[amazon box="B002MKP5JM"]
The Industrial Air ILA1883054 is a single-stage, portable, 30-gallon air compressor that delivers more power (in CFM) than the other products in our review, including the Sanborn. But it does make you pay for that extra air flow.
Price
Available on amazon.
Ease of Use      
At 185 pounds, the portability of this unit is going to depend on good handles and tires. The handle is sturdy enough but as with the Sanborn, the true portability of the unit might have been better. Otherwise, the controls and gauges are large and arrayed together for simple operation of the air compressor. As with the Sanborn, this unit can operate from 120v or 240v outlets.
Common Uses  
All smaller tools are powered by this air compressor, which can also handle bigger tools and jobs because of its bigger air flow.
Design Quality  
The Industrial Air ILA1883054 delivers all the advantages of the Sanborn air compressor: a 30 gallon tank, dual voltage power, reliable and durable construction, plus the Industrial Air has a more powerful motor at 1.9hp capable of delivering 155psi max and, more importantly, 5.7cfm at 90psi. This isn't a lot better than the Sanborn, but it is better. Then the question is whether it is better—if powerful airflow is your main goal, this air compressor offers more than others in our comparison.
Warranty
Two-year limited warranty.
Pros
More power!

Good, sturdy construction
Cons
Again, maybe not that portable

Again, maybe not that portable Expensive
Conclusion
All the air compressors in our product comparison will run one or in some cases even a couple of low-power tools without much difficulty. All of the products reviewed here are single-stage air compressors mainly aimed at DIYs and the home workshop market.
But when it comes to air compressors, the key issue as we have said is the amount of air flow—generally the more the better. In our comparison, two units, the Sanborn air compressor and the Industrial Air stood out in terms of delivering good air flow.