*This post may contain affiliate links. As an Amazon Associate we earn from qualifying purchases.
The Red Fuel Jump Starter is a portable system which allows drivers to jump-start their battery, without worrying about jumper cables. If you've ever been stuck on the side of the road after a long day with a dead car battery, you know how lifesaving this can be.
Finding a willing stranger to help out can be difficult when you need your car battery jumped. And, in some cases, it might be scary if you're in a remote or dangerous area. With a remote jumper, you eliminate the need to rely on others. Plus, you don't have to call a tow company which would overcharge you for giving you a hand when you're stuck.
About Portable Jumpers/Starters
The original battery jump starters used a traditional lead-acid battery, with attached cables. They were heavy, did not hold a charge well, and were usually only good for one or two jump starts. A new generation of must-have equipment is quickly replacing the older, more cumbersome, lead-acid jump starters.
A compact battery jump starter is a small device that can fit easily in any vehicle. It operates on a Lithium-Ion battery. These tiny jumper packs remove the need for traditional jumper cables.
One of the most significant benefits is that a second car is not needed. By connecting directly to the vehicle's battery, the jump pack supplies energy to start the car.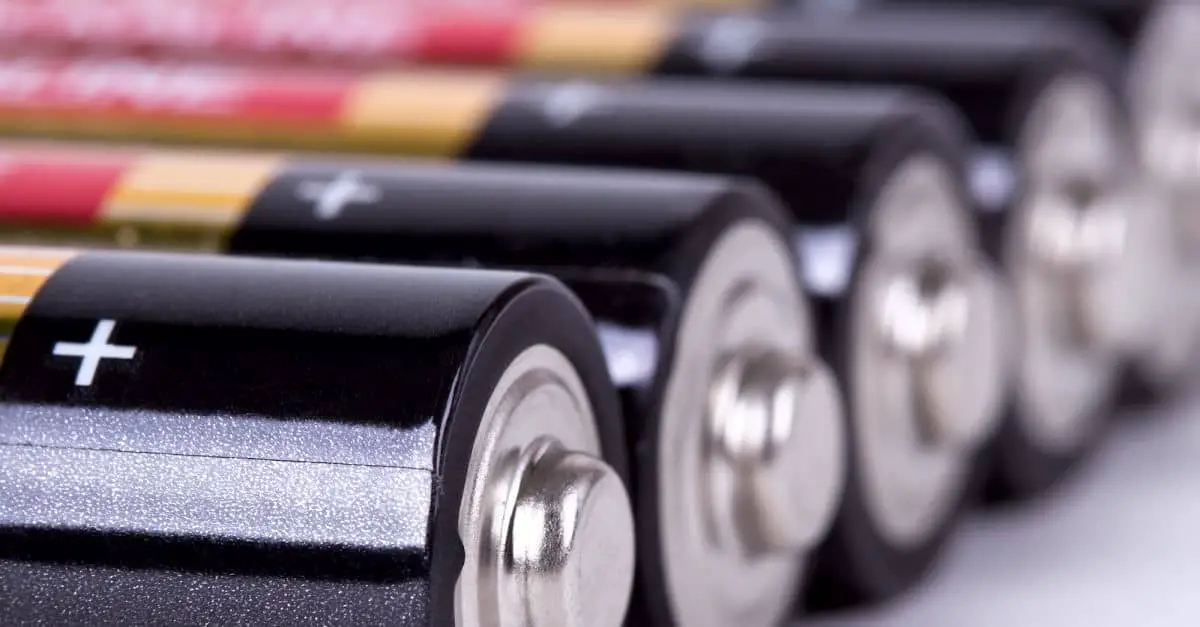 Features of the Red Fuel Jump Starter
Several distinct features make the Red Fuel Jump Starter an excellent option for drivers. The battery booster pack is easy to transport. It is lightweight and fits nicely into the car's trunk. Some features of this battery pack, which is available in several models, include: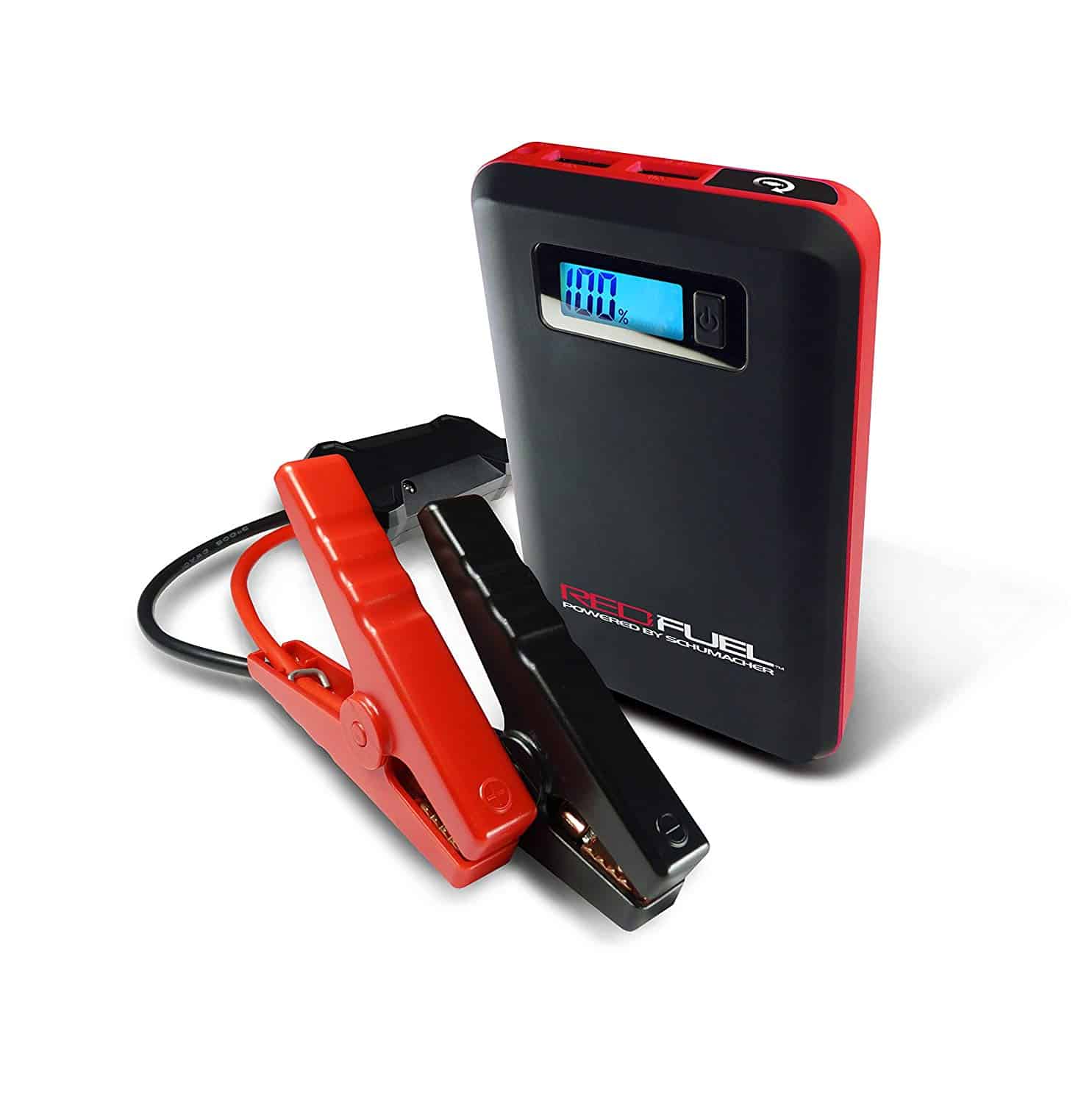 Smart cable to protect against reverse polarity on battery clamps
Capable of jump-starting car, truck, and motorcycle batteries
It operates on a powerful lithium-ion battery
Contains an LED light with three modes
Equipped with USB ports to recharge electronic devices
Weighs less than two pounds
Portability & Compact Design
The compact size of the Red Fuel Jump Starter is a high selling point. It comfortably fits in the glove compartment, side door compartment, seat pocket, or in the trunk. It is incredibly light and comes in a carrying case. The jump starter positive and negative cable clamps plug into the unit via a smart cable.
Where to Buy the Red Fuel Jump Starter
Several retailers carry the Red Fuel Jump Starter. It is available through the Home Depot, Amazon, NewEgg, and many local auto parts retailers. The price runs from $65 to $125, depending on the place of purchase and model number.
Our Review Process
When reviewing the Red Fuel Jump Starter, we considered product price, the amount of power the jumper produces, and how quickly it recharges. We also considered the portability and ease of use.
The Best Portable Jumper Starters
While the Red Fuel Jump Starter is a great product, there are several similar products also available. We reviewed several different brands and styles of portable jump starters.
NOCO Genius Boost Plus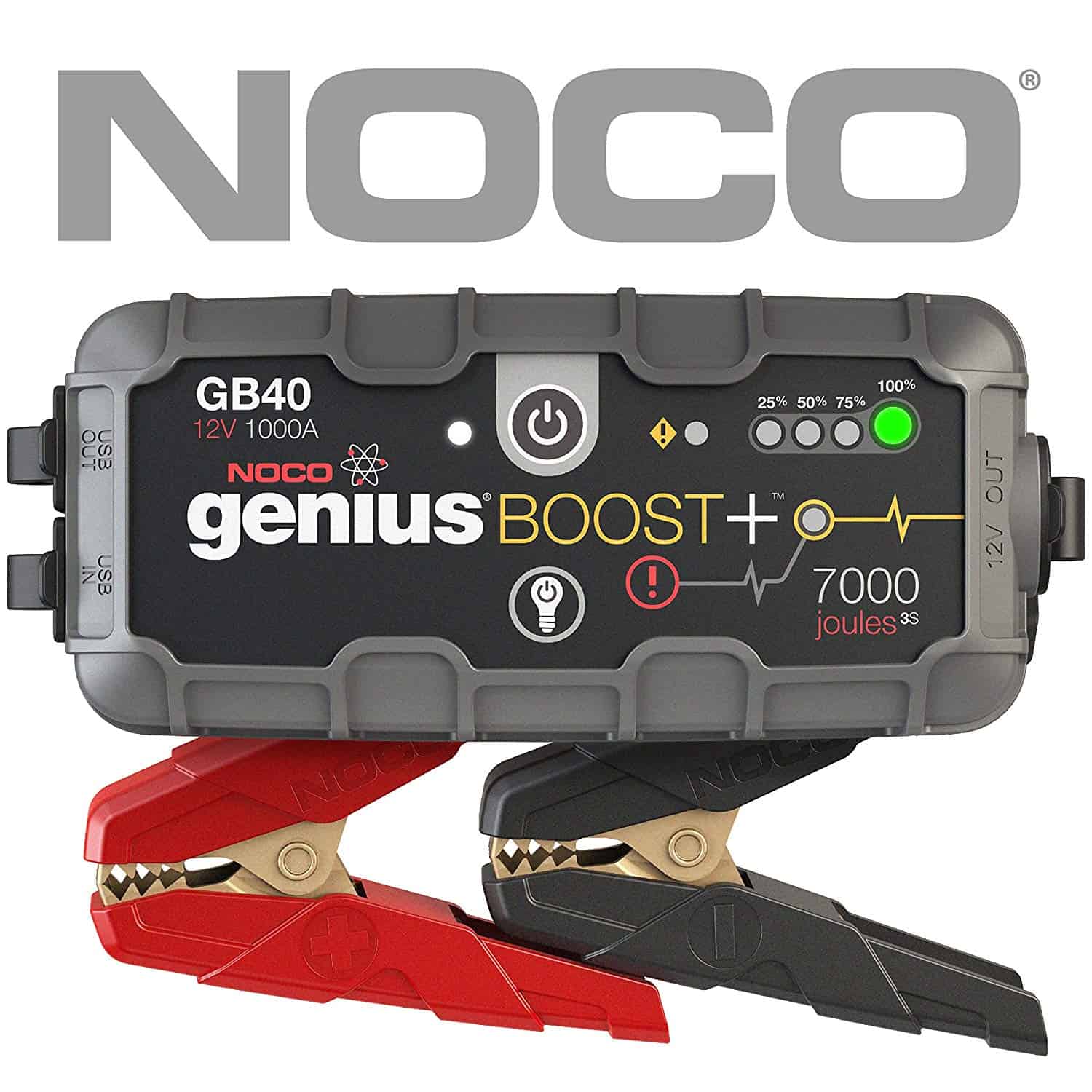 This 12V, ultra-safe battery booster is compact and powerful and produces up to 1000A. The jumper can be used to jump a car battery up to 20 times on a single charge.
It has an ultra-bright LED flashlight built-in allowing owners to see well when jumping the battery in dark areas. It also has seven light modes, including an SOS or emergency light for dangerous situations.
Some owners claim this jumper booster short circuits often. Additionally, people claim that it does not hold a charge as long as the manufacturer claims. Therefore, it should frequently be checked and charged.
Amazon reviewers give this jumper booster a 4.3 out of 5-star rating.
iClever JC11R-AB 600A Peak 18000mAh Portable Jump Starter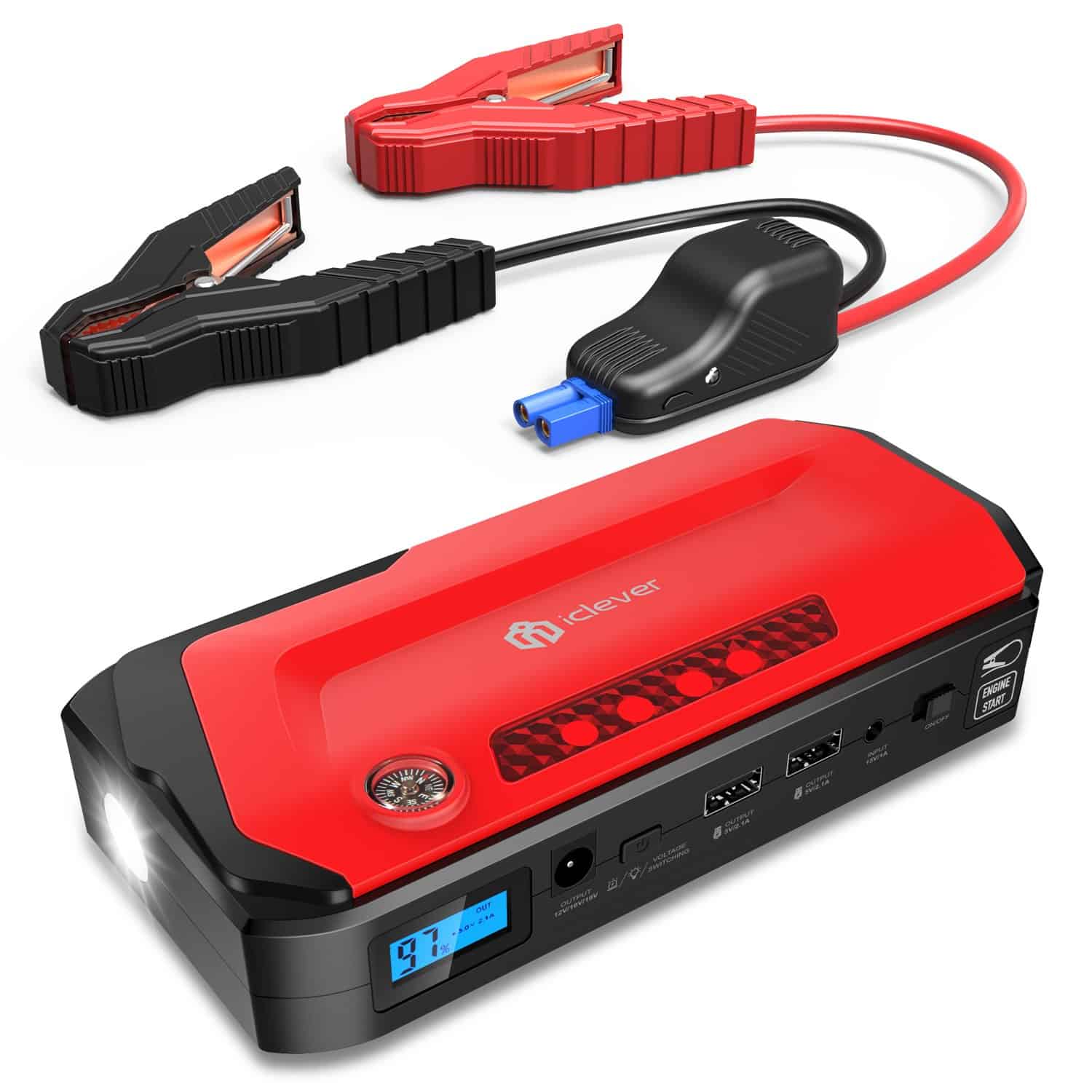 The portable starter works on cars or trucks with diesel and gas engines. It has an LCD readout panel and built-in compass for navigation. Drivers can easily see how much energy it has to jump the car's battery. The dual-USB port allows owners to charge up to two electronic devices at once.
This jumper is capable of charging a battery up to 30 times on a single charge. It has a bright LED flashlight for night use when needed. A prime benefit is an 18-month replacement warranty and the lifetime support guarantee.
Some owners complain the device doesn't function as it should. Many reviews state that the unit discharges rapidly and doesn't hold a charge. If accurate, this would render this jump pack virtually useless. It maintains a high satisfaction rate regardless, so the complaints may not be valid for all consumers.
This portable jumper has a 4.3 out of 5-star rating on Amazon.
Nekteck Car Jump Starter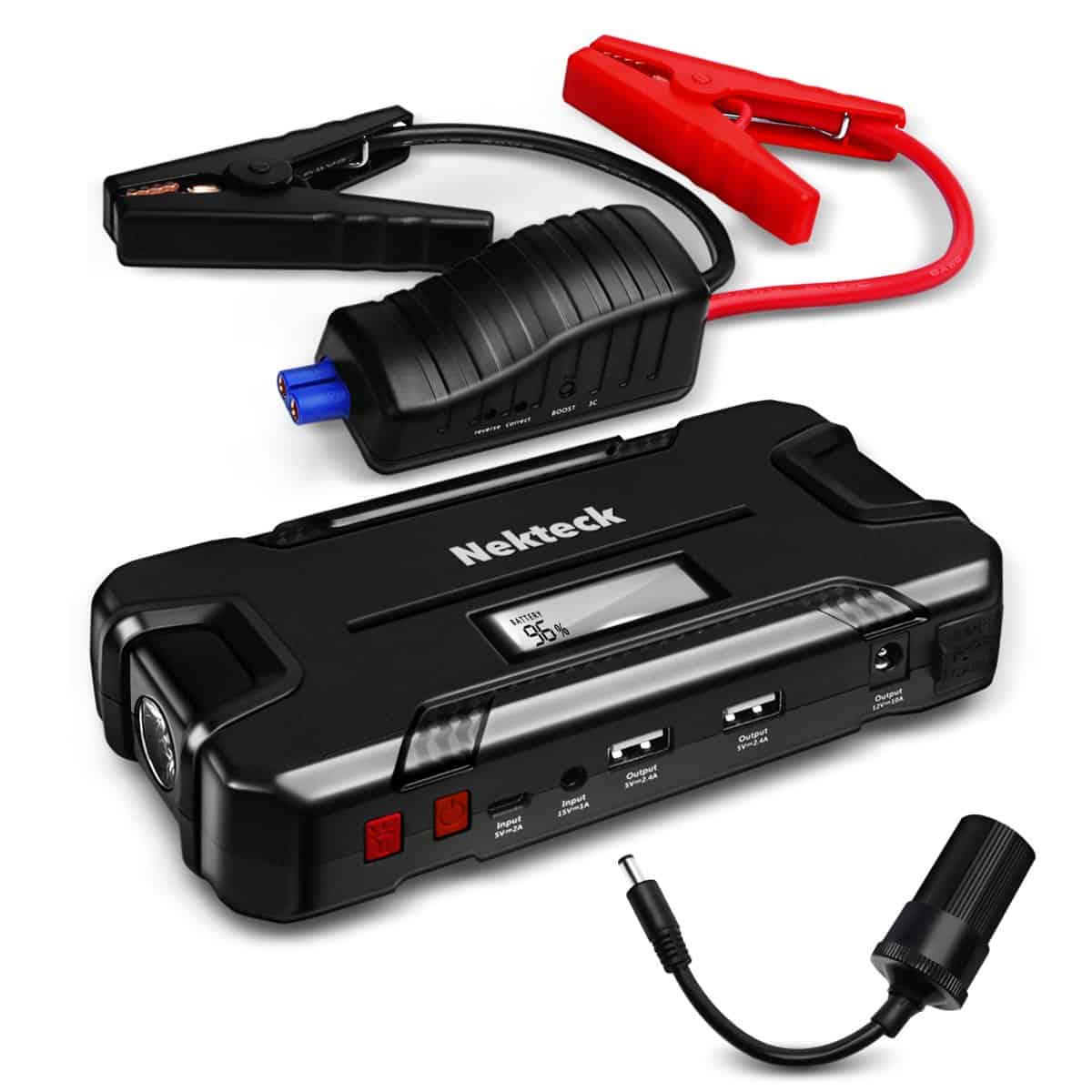 The highly portable unit produces up to 12000mAh battery power for mobile starting virtually anywhere. It is tiny and can fit into the glove compartment or right beneath the driver's seat. It recharges very fast and maintains a charge for several uses.
The device is capable of jump-starting batteries on cars and trucks. It is powerful enough to start a boat. Owners can jump-start a battery up to 12 times without having to recharge the unit.
Six out of 227 reviewers complained that it does not hold its charge for as long as the manufacturer claims. The Nektek jump starter has an overall 4.8 out of 5-star rating on Amazon.
POTEK Portable Power Source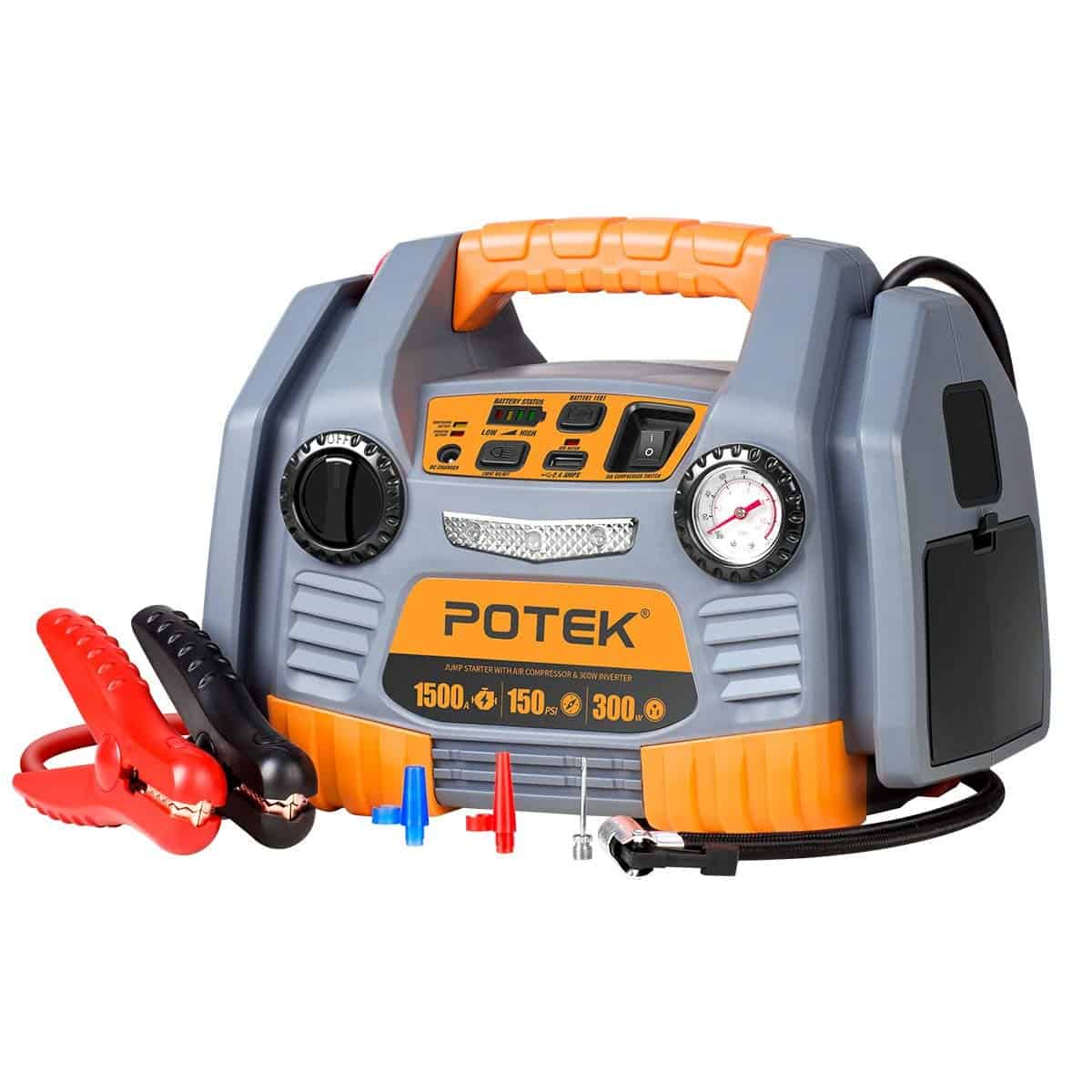 Not only will this jump start your battery, but it has can also add air to your tires if they're flat. The included 150psi air compressor can quickly get you to a nearby mechanic if tire pressure is low. And the 1500A peak instant charger will give your battery a jolt of energy to get you back on the road.
This portable charger has an 18Ah lead acid battery. The 12V unit features a yellow indicator light to inform you when charging is complete.
Unlike other units, this jumper isn't as portable. It is a lot larger, heavier, and more difficult to carry around. It can, however, fit into the trunk easily enough. Additionally, some owners state they prefer the lithium-ion, over the lead-acid battery for ease of use.
Owners give this unit a 4.5 out of 5-star rating on Amazon.
AutoGen 2000A Peak Portable Jump Starter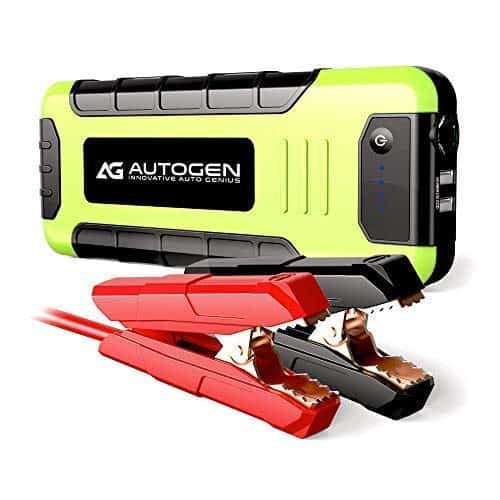 This portable jump starter is safe to use on diesel and gas engine vehicles. It has a peak performance of 2000A, for gas engines up to 8.0L and diesel up to 6.5L. The copper clamps secure in place on your battery, for quick and safe jump starts.
The portable power bank is easy to fit anywhere in the vehicle. It safely fits below the driver's seat or in the glove compartment for quick access.
Many reviewers claim this unit isn't as powerful as others in the same class. Reviews also indicate that the power bank doesn't retain the charge for long periods between uses.
This portable jumper has a 4.1 out of 5-star rating on Amazon.
Rugged Geek RG1000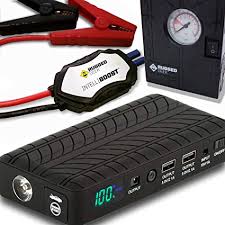 The Intelliboost system quickly and efficiently supplies power to your battery instantly upon connecting the portable charger. An LED flashlight which affords individuals safety, especially in dark or dangerous conditions.
The eight-gauge cable is more powerful than competitor jump-starters, and the Liquid Crystal Display (LCD) provides all information legibly in one place. The unit is powerful enough to jump-start boats, ATVs, off-road vehicles, car or truck batteries. It is capable of jump-starting batteries on cars up to 7.0L gas and 3.5L diesel engines.
Although it is one of the best products, it is also higher in price than most competitor portable chargers. The price is the most significant complaint by reviewers online. Additionally, some claim it requires you to charge the unit frequently, due to inefficient charge rates.
This jump starting unit is a top-selling item, with a 4.4 out of 5-star rating on Amazon.
Imazing Portable Charger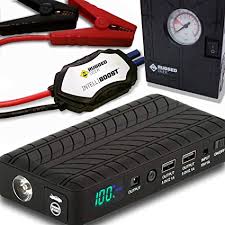 This jump starter is capable of working on cars and trucks with diesel and gas engines. The manufacturer claims that drivers can jump-start their battery up to 30 times, on a single charge. So, even if the portable jumper isn't charged frequently after use, it holds the charge well.
This product has a six-in-one design. It has a portable charger for electronic devices, emergency jump starter, and includes an SOS light. This unit features a flashlight and dual USB charging ports.
A few reviews note that the portable charger is a little bulky. Although it is small, it is heavy, so is best to store below the seat or in the trunk. The main complaint in reviews seems to be a quicker discharge rate than the manufacturer claims.
The Imazing unit is another top-selling jump starter with a 4.5 out of 5-star rating on Amazon.
GOOLOO 600A peak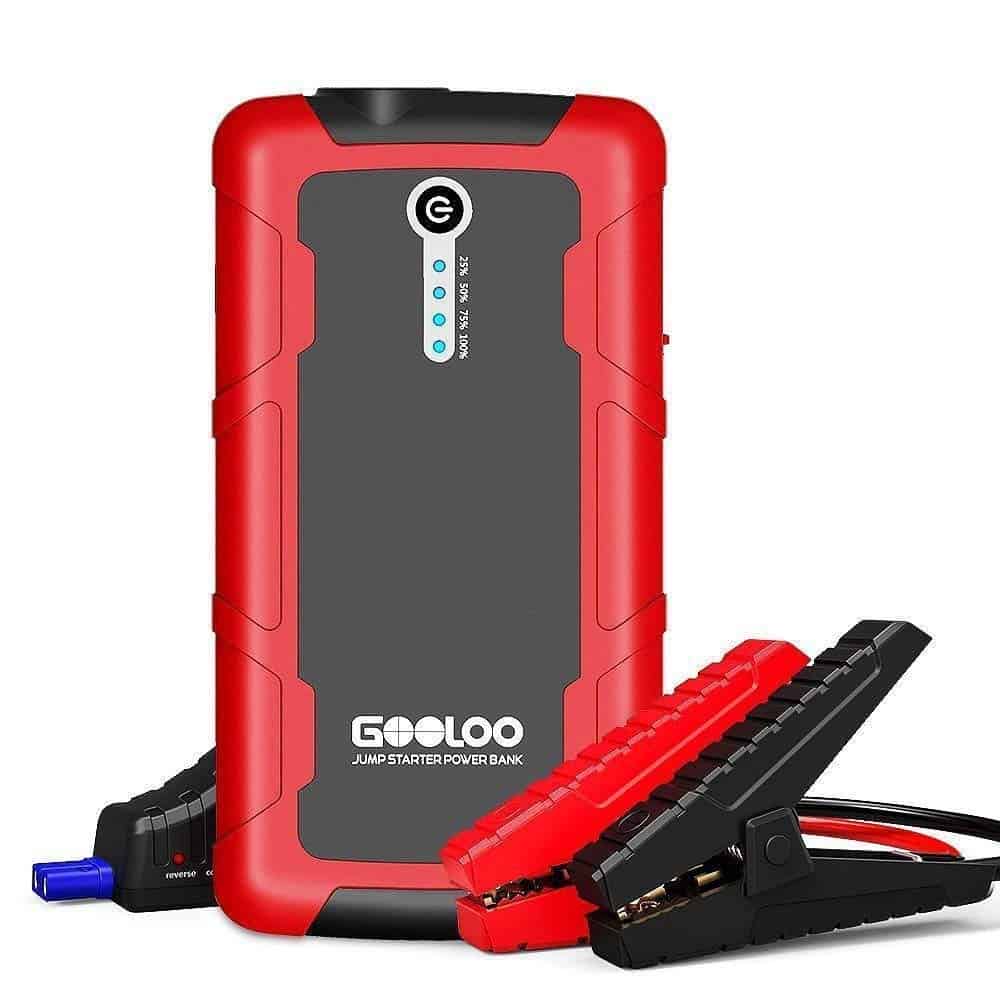 This super safe car jump-starter is efficient, compact, and easy to use. Even drivers who have never used jumper cables will quickly figure out how to use this small system. The durable jumper cables connect to both diesel and gas-engine batteries.
The built-in LED light allows users to see what they are doing in the dark. And, the long battery life will enable owners to use this system up to 20 times, on a single charge. It is capable of starting a car, truck, and motorcycle batteries.
The price for this jump starter is lower than many on the list. However, many consumers claim the reason for this is the lackluster performance. Many reviewers claim that after a full charge, they can only use the portable charger a couple of times. And, some report that it short-circuits even after minimum use.
Owners of this product rate if 4.1 out of 5-stars on Amazon.
SUAOKI P6 800A Peak Car Jump Starter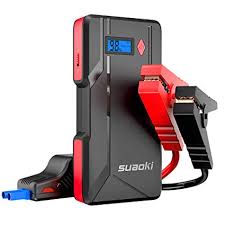 The jump starter is efficient, operating at a maximum capacity of 800A. It is capable of boosting batteries up to 6.0L gas, and 5.0L diesel engines. The power bank quickly charges electronic devices via a USB drive. The unit charges rapidly via a wall outlet or the DC adaptor. It features a flashlight for ease of navigability in dark conditions. There is also a strobe SOS light to use in dangerous situations or to flag other drivers down. The clamps feature a spark-proof design, making them safer than other products to use in wet or rainy conditions.
This jump starter is made by a company which isn't as well known as some other brands. Some reviewers claim that even though the battery shows 100 percent, the jump starter doesn't work efficiently. It requires frequent charging in between each use, unlike other jump starters on this list.
Most reviewers have written favorable ratings about this jump starter, but it only ranks at 4.1 out of 5-stars on Amazon.
Arteck car jumper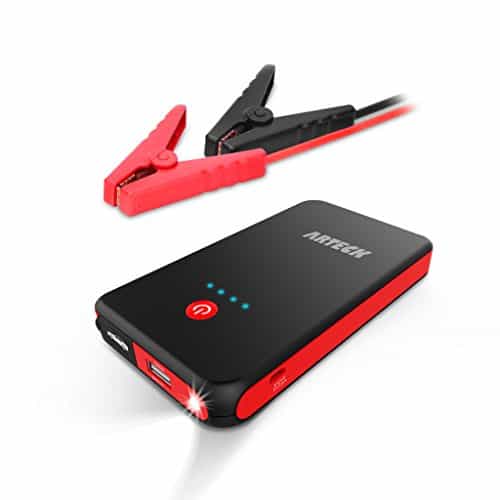 This jump starter can deliver 300A via powerful clamps to jump-start your battery virtually anywhere. It can connect to vehicles with diesel as well as gas engines. This unit is extremely portable and lightweight. The charger is smaller than a tablet and fits compactly into the glove compartment or right below the driver's seat. It has a premium protection unit built-in, to prevent short-circuiting or sparks when jump-starting batteries.
Many reviewers claim this isn't as powerful as other units on the list. This unit clocks in as one of the least expensive, and many reviewers note the quality being the reason why. It does not hold a charge well, requiring owners to recharge the unit after every few uses.
This car jumper has a rating of 4.5 out of 5-stars on Amazon.
Your Heading Here
Is the Red Fuel Jump Starter the Best Option?
The Red Fuel Jump Starter is an excellent option for many drivers. The compact size, ease of use, and connectivity to most vehicles makes it a great portable jump-starter. However, based on reviews, it might not be the most powerful unit for all situations.
For consumers who can spend a little more, the Rugged Geek RG1000 power portable jumper is a great option. It is compact, and like the Red Fuel Jump Starter, connects to nearly any vehicle.
The Rugged Geek RG1000 also handles jump starting larger vehicles, making it more efficient for drivers in need of additional power for their battery. And, it holds the charge for several jumps. Users can use the unit between 20 to 30 times on a single charge.
So our verdict is that if you need a light-to-medium service jump starter, the Red Fuel Jump Starter will suit your purposes. If you need something a bit more powerful and are willing to part with the extra money, the Rugged Geek RG1000 should be your choice.
Featured Image: From Amazon