*This post may contain affiliate links. As an Amazon Associate we earn from qualifying purchases.
Dash cameras mount to your car's dashboard or windshield and record images and sounds while driving. They have become highly popular in the last few years due to the many benefits they offer including fraud prevention and getting evidence for a variety of circumstances. We will look into some other benefits of these types of cameras, including the Polaroid Dash Cam, can give you.
These dash cams record all details taking place both inside the car (audio) and on the road (visual) andare widely used around the world by police officers, company drivers, and regular drivers. One important feature of these cameras is that they can be usedin conjunction with other onboard technologies like GPS. Here are a few scenarios where dash cams can be useful:
Evidence in Car Accidents
The main reason people invest in dash cams like the Polaroid dash cam is for evidence in case of car accidents. These cameras start recording when you start the car's engine providing a record of everything, and this recording can prove who is to blame when an accident occurs. This eliminates the need to go to court. This recording is the most efficient and strongest proof you will have to defend against the guilty driver claiming you were at fault.
Fraud Prevention
When it comes to traffic and vehicles, insurance fraud is one of the more common problems faced in the 21st century. This type of fraud obviously affects insurance companies, but it also affects honest drivers. Unfortunately, there are drivers who cause car accidents on purpose and even fake injuries, placing the blame on the other driver just to get money from the insurance company.
The fraudsters claim injuries that are hard to prove, such as back pain and whiplash, demanding monetary compensation to cover hospitalization and pain/suffering. They normally look for people driving high-end vehicles thinking they have money and good insurance, and this problem ends up raising insurance premiums for everyone. Use of dash cams like the Polaroid dash cam prevents one of these problems, who is at fault in an accident, by recording all events, so that the scammer can't extort money for something you did not do.
Records Bad Drivers
Another reason you might consider a dash cam like the Polaroid dash cam is for helping you in reporting bad or undisciplined drivers. We have all had at least one encounter with these types of drivers who are not only irresponsible and reckless, but they could put passengers and other drivers' lives in danger. Reporting this type of situation often requires proof if an eyewitness isn't available to corroborate your accusation.
You can also use dash cams to report drunk drivers, drivers texting while driving, and for incidents of road rage. Most states in the USA have programs designed for those who wish to report these type of drivers, which provides safer roads for all.
Helps Driving Companies
Vehicles are one of the most valuable assets we own, and dash cams, like the Polaroid Dash Cam, help trucking companies, cab companies, and even contractor jobs like Uber and Lyft protect their drivers and their equipment. If you own a company and have suspicions that your drivers are taking advantage, these cameras aid in catching those responsible. Most dash cameras come with GPS, so besides recording the road and interior of the vehicle, the dash cam can also record driving routes and driving speed.
Record Your Entire Road Trip
Do you often take road trips and would like to turn it into an unforgettable journey you can share with others or watch again for nostalgic reasons? If yes, then a dash cam is the perfect choice for turning your adventure into memories you can cherish throughout the years.
Evidence
Besides car accidents, there are many times your car can be damaged and dash cams like the Polaroid Dash Cam help to point to those responsible. Did a vandal try breaking into your car, especially if the vehicle was parked in poorly lit areas or left unattended? Not only can dash cams record this type of crime, but they can also be controlled remotely with the data sent to your computer, laptop, tablet, or phone. Another advantage is that you can set them to stay on overnight, also helping protect your car from vandals.
Capture Amazing Sights
When looking at online videos of car accidents and strange phenomena, you learn that most instances were not recorded on purpose, but they were actually caught accidentally. An example of this is in Russia, a driver's dash cam recorded a meteor streaking across the sky, and it ended up with millions of views on YouTube. So, not only are dash cams good from a legal and safety standpoint, they can help record some amazing and unforgettable events.
What Is the Polaroid PD-G55H 1080P Full HD DashCam?
The Polaroid PD-G55H 1080p HD dash cam is a lightweight, multi-function unit featuring a 2.4 inch LCD screen that takes both video and stills. It also records your speed and location through the built-in GPS radio and has a G-sensor to record automatically. It also has an auto record feature that turns the dash cam on/off with the vehicle's power. There is an interior directional mic for in-car audio recording that can be disabled if you don't need it.
Polaroid Dash Cam Specs
The Polaroid dash cam keeps track of recent locations visited via the GPS system. This software provides users with an easy playback with information such as latitude, longitude, among other parameters. The Polaroid dash cam records videos in full 1080p HD quality, giving you crispness with lots of details. It can also be configured to record at WDR 720p for more memory card space.
The Polaroid dash cam's G-sensor automatically saves when a collision happens and the G-force sensor can be configured to allow the dash cam to highlight sudden speed changes automatically in case of an accident. With the ability to control the G-force sensor, users determine the dash cam's sensitivity, and it is a great feature for city drivers dealing with frequent stops/starts.
The Polaroid dash cam's continuous loop recording enables users to configure the cam as a "fire & forget" monitoring tool. This setting means the camera will record a continuous loop of footage while maintaining a buffer of the most recent footage including speed changes. All the recordings include location, time, and date for safety.
An added bonus of the Polaroid dash cam is the ability to take photos, and this is important when documenting accidents for insurance purposes.
Pricing
The Polaroid PD-G55H 1080p HD dash cam is available for an estimated cost of $70.00 and can be found on Amazon, Ebay, WalMart, and other retailers.
How It Compares
We picked a few similar products available on the market to see how they compare.
Garmin Dash Cam 55
THINKWARE F770 Full HD 1080p Dash Cam
BlackVue DR650S-1CH Dashcam
Polaroid PD-G55H 1080P Full HD DashCam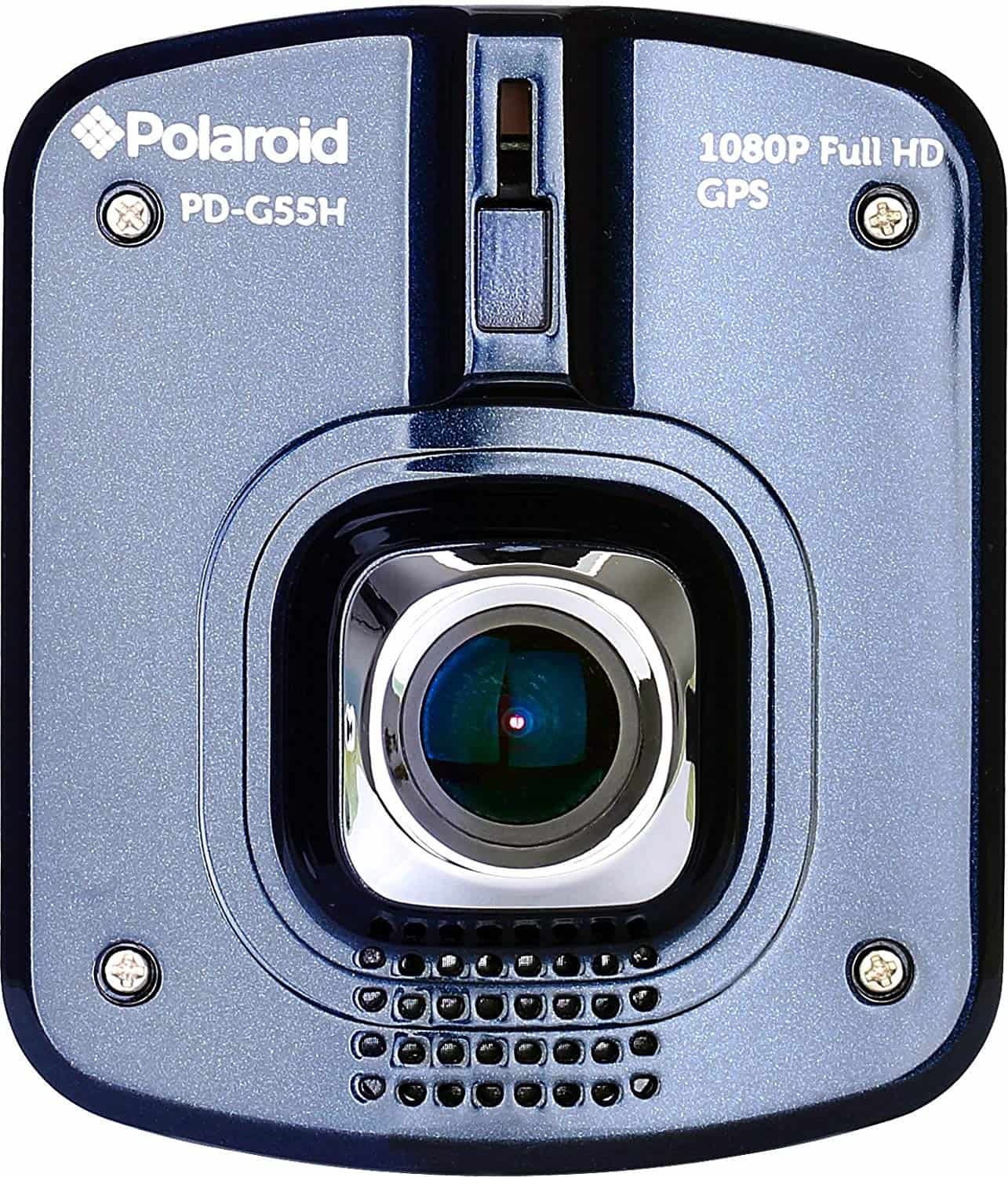 | Price | Ease of Use | Assembly Time | Design Quality | Durability Quality | Warranty |
| --- | --- | --- | --- | --- | --- |
| $70.00 | | | | | |
Pros
GPS
G-sensor
Great video/picture quality
Cons
Battery needs charging first thing
Lack of online documentation
Mini cd for included software
Garmin Dash Cam 55 4/5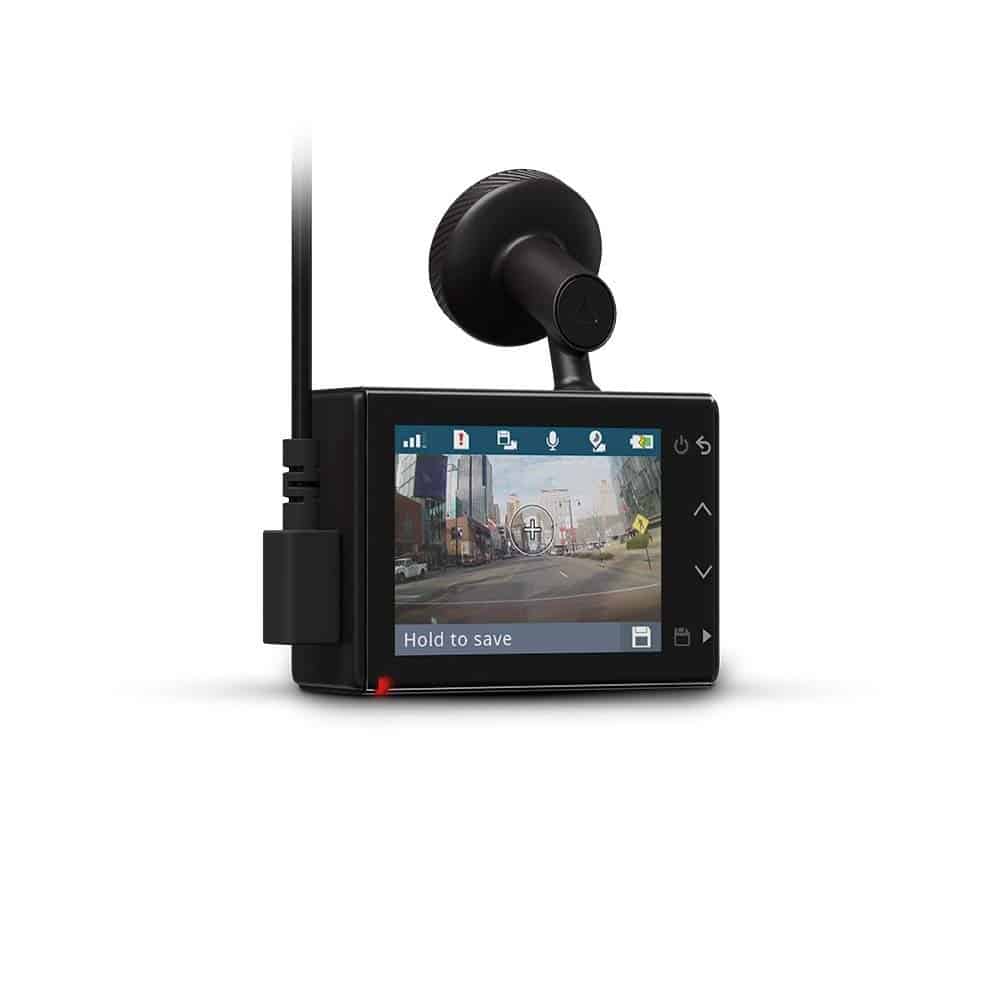 Features
The Garmin dash cam 55 is a tiny and discreet dash cam that records videos in high-quality 1440p with a 2″ LCD display and a wide-angle lens that captures the entire road. The camera also features GPS with time and location information. You can wirelessly sync your videos to a compatible smartphone via the built-in wifi after you download the VIRB app for free.
The Garmin dash cam 55 has a G-sensor for automatic incident detection, so the camera saves the current, last, and next recording preserving a complete record. You can also control it with your voice without having to move your hands from the steering wheel.  Simply say, "Ok Garmin", to take a picture, save video, start/stop recording, and to start/stop the Travelapse feature which is an easy and fun way to condense hours of driving time into just minutes of highlights you can share with friends/family.
The Garmin dash cam 55 has forward collision warnings that alert you if you're driving too close to the car in front of you and lane departure warnings that alert you if you've deviated from your lane. You also have the ability to record video while the vehicle is parked, however, you need to connect the dash cam to the Dash Cam parking mode cable, available separately.
| Price | Ease of Use | Assembly Time | Design Quality | Durability Quality | Warranty |
| --- | --- | --- | --- | --- | --- |
| $175.00 | | | | | |
Pros
Travelapse mode
Easy-to-use voice control
Great daytime video quality
Easy sharing
Cons
Low video quality at night
Mounting strips will wear out
THINKWARE F770 Full HD 1080p Dash Cam 4/5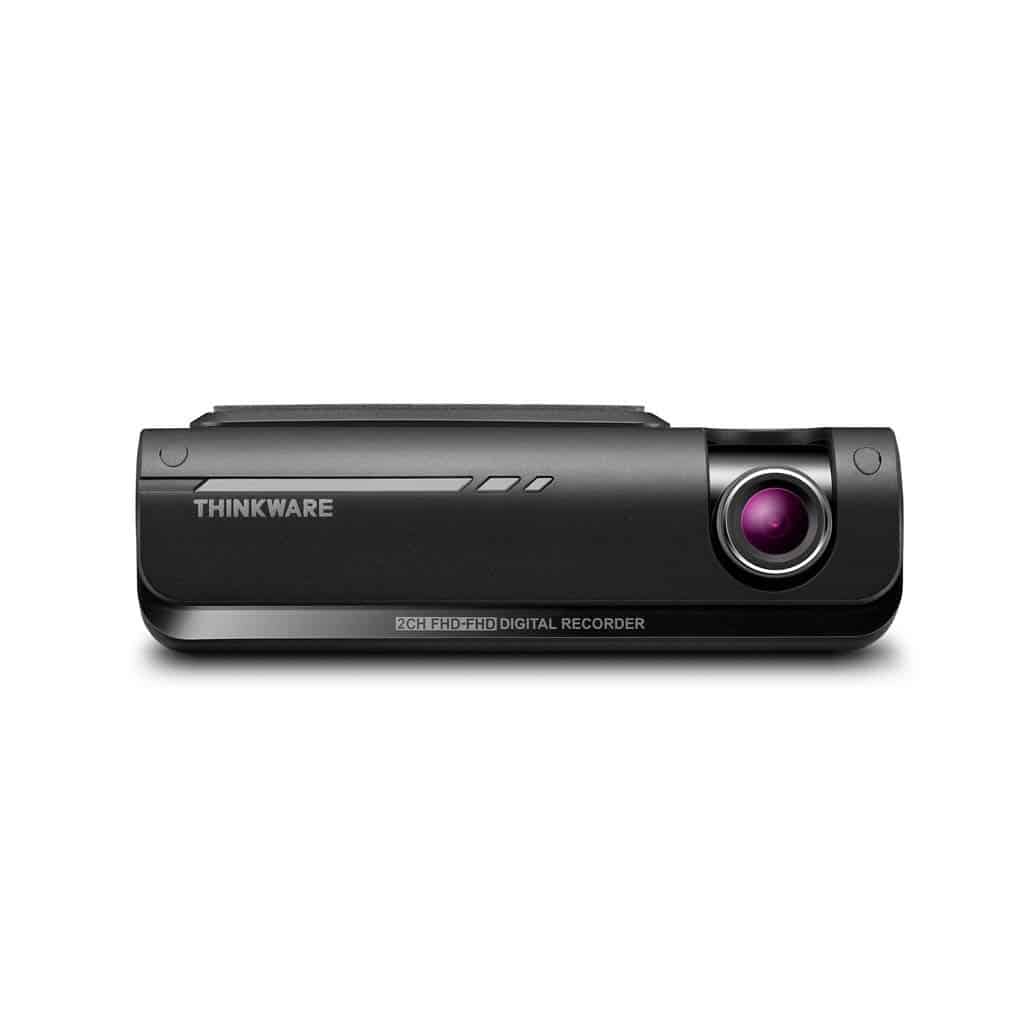 Features
The THINKWARE F770 Full HD 1080p dash cam offers decent image quality with some neat features including a rear-view camera option. The dash cam doesn't have a screen and therefore, relies on the use of your smartphone. The dash cam comes with built-in wifi, GPS, super night vision, and time-lapse features. The built-in wifi comes with a mobile app viewer for iOS and Android platforms.
The GPS enables location, speed, and time in the video recordings. Other features include red light and speed camera alerts, lane departure, forward collision warnings, time lapse and impact/motion detention in parking mode, integrated thermal protection, and anti-file corruption tech.
| Price | Ease of Use | Assembly Time | Design Quality | Durability Quality | Warranty |
| --- | --- | --- | --- | --- | --- |
| $250.00 | | | | | |
Pros
Rear-view option
Built-in GPS
Parking mode with a permanent installation
Cons
Smartphone required for set-up and installation
No suction cup mount included
BlackVue DR650S-1CH Dashcam 4/5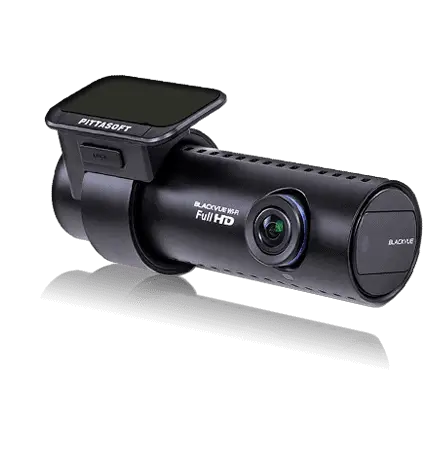 Features
The BlackVue DR650S-1CH dash cam records clear images in the dark thanks to the Sony EXMOR CMOS image sensor. Videos are stored in the cloud, and you can replay them using the BlackVue Cloud app. The dash cam swivels 360 degrees, and the internal GPS receiver will keep track of speed and location. This dash cam offers great parking mode, and the 1080p video has a smoother look than previous cameras; the voice alerts, from the start-up, work to let you know when the memory card needs to be formatted is great.
| Price | Ease of Use | Assembly Time | Design Quality | Durability Quality | Warranty |
| --- | --- | --- | --- | --- | --- |
| $200.00 | | | | | |
Pros
Turn off speed indicator
Turn off LED recording lights
Cons
No rear-view
No built-in GPS
No iOS/Android support
Conclusion  5/5
In conclusion, it is said that a picture is worth a thousand words, therefore videos are priceless. Dash cams record everything that happens while operating a vehicle in the form of either a single or double lens that mounts to your windshield or dashboard via a suction cup and can be powered via hard wire to the car, batteries, or the car's cigarette lighter.
When your car starts, the dash cam begins to record video on a continuous loop to an SD card. Some dash cams also record audio, night vision, and come with built-in GPS allowing the user to know when and where an incident occurred, whether it be someone jumping in front of your vehicle to a car cutting you off and saves it.
We liked the Polaroid PD-G55H dash cam's G-sensor that saves automatically when an accident occurs, and the G-force sensor which can be controlled by the user to change the sensitivity of the dash cam. The bonus feature of being able to take still photos helping with insurance documentation is a great idea to combat fraud. If you happen to find yourself in an accident, having more evidence is better than none.