*This post may contain affiliate links. As an Amazon Associate we earn from qualifying purchases.
If you've ever driven through a torrential rainstorm, you know how important it is to have good quality windshield wipers, like Goodyear windshield wipers. Whether you're driving a small sedan or a large truck hauling freight, your windshield wipers can prevent unnecessary accidents and injury on the highway. A high-quality wiper will be able to remove as much water as possible from the driver's field of vision with each pass across the windshield. Delivering this level of performance requires the wipers to be well-designed and to fit the specific car they're installed on correctly.
If you're looking to replace your wipers, you'll need to consider what make and model of car you drive and match the appropriate wipers to your vehicle. If you're using the wrong type of wipers, you may have gaps between the rubber blade and the glass, creating areas where the wipers cannot clear the driver's field of vision. In this article, we'll take a look at Goodyear windshield wipers as well as some others brands to see how they all measure up. Let's take a look.
What Are Goodyear Windshield Wipers?
Goodyear is an automotive brand that makes several different products for cars. They are most well-known for their tires; however, they also offer other products, including wiper blades. When you purchase a car, the windshield wipers come as a standard feature on the front of the car. The way the wipers attach to the blades is different on each car.
Goodyear windshield wipers are actually wiper blades that are designed to fit several different makes and models of cars. Goodyear makes several different kinds of wiper blades to fit different attachment points and for different levels of performance. We'll take a closer look at the specs for each kind of blade so you be sure to get the right blade for your type of vehicle.
Product Specs
Goodyear offers several different types of wiper blades that are meant to fit different anchor points on different kinds of cars. Here is a list of the styles they offer:
Hybrid
Premium
Racing
Racing winter
Rear
Heavy Duty
20/20 performance
Goodyear windshield wipers area quality product that promises never to leave you in an unsafe situation with wipers that don't work. Their wipers promise to remove rain, snow, and other things so you can continue to drive safely. A new set of Goodyear wipers can ensure your safety for years to come. They have been making tires and other auto parts since 1898, so you can trust that they know a lot about how to make quality parts for your car.
Goodyear windshield wipers come in many sizes, so there should be a size that will fit your car. Available sizes include from fourteen inches to twenty-two inches, as well as twenty-six and twenty-eight inch blades. The blades have a natural rubber coating and they are angled. This creates a squeegee effect that removes more water and other debris from the windshield. This will give you a streak-free drive.
Goodyear hybrid blades use different couplers so they can fit on many different makes and models of cars. With this many choices, there's one that will work for you. They are super easy to install, so you won't need to make a trip to the mechanic. However, they don't come with printed instructions. The blades weigh about 8 ounces. Safety has always been a priority for Goodyear, so their wipers are designed to keep you safe above all else.
Pricing
Goodyear windshield wipers are available online and at major retailers for anywhere from $8 to $16. They often come in packs of 2, which gives you a slight savings. This is a fairly average price as compared with other brands of wiper blades that are available.
How It Compares
We picked a few similar products available on the market to see how they compare. We've selected everything from high-end wiper brands to a lower-cost option so we can compare different price points. Sometimes, a higher price point doesn't guarantee a better product.
Bosch ICON 26A
Rain-X 5079280
ANCO 31-Series
Goodyear Windshield Wipers
| Price | Effectiveness | Quietness | Performance Lifespan | Ease of Installation |
| --- | --- | --- | --- | --- |
| $10 to $14 | | | | |
Pros
Couplers are included
They are inexpensive
Great for all-weather
Cons
They don't come with printed instructions
Need frequent replacement
May be hard to get the right size
Bosch ICON 26A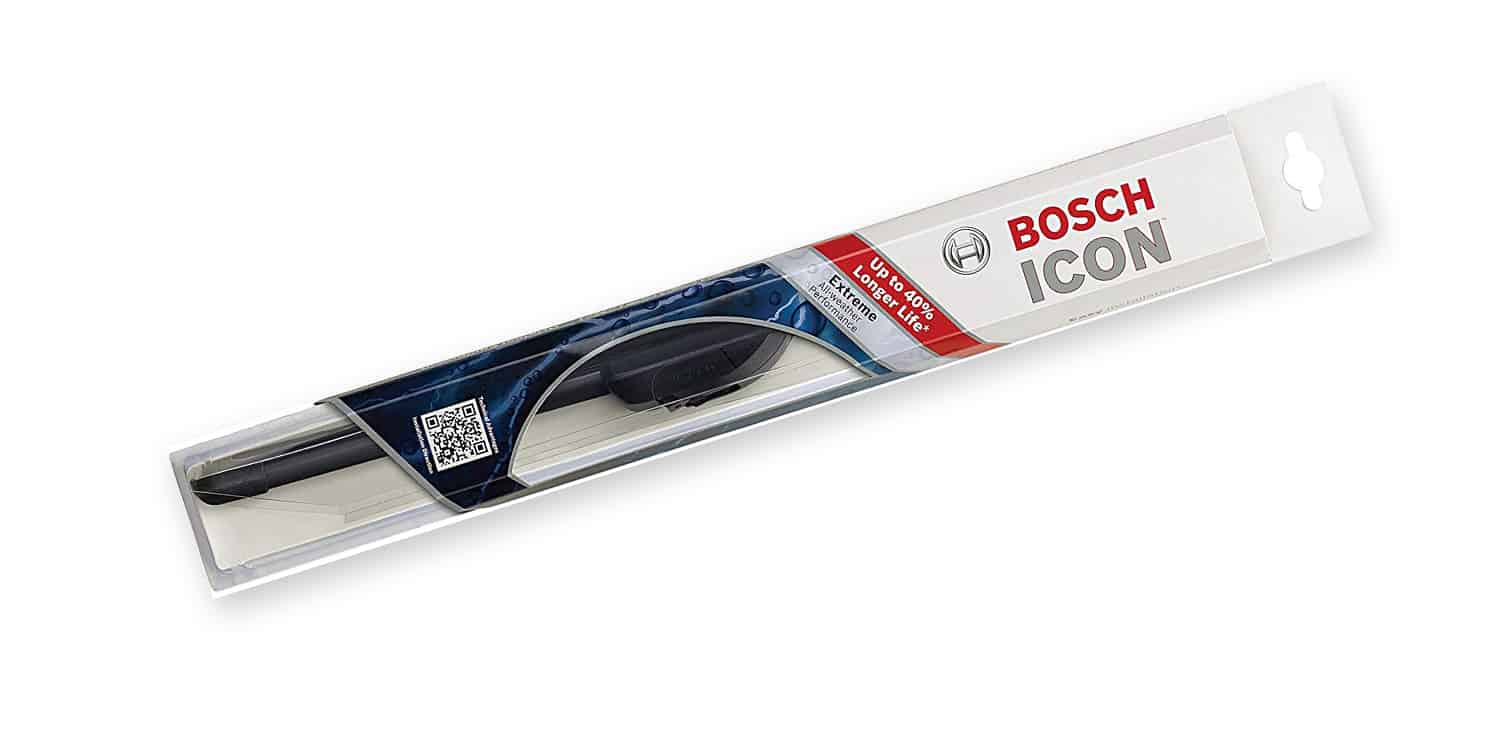 Features
The Bosch ICON 26A windshield wipers are heat-resistant in order to make them last about 40% longer than other blades. They are designed to maximize your visibility in tough storms because of their patented "beam design." The tension spring arcing technology keeps the blade hugging the curve of your windshield. They also have a flexible asymmetric spoiler to make the downward force uniform so it can continue to clear the windshield effectively at higher speeds.
Bosch wiper blades include exclusive, FX dual-rubber construction that is heat-resistant. They are super easy to install with a hook adapter. The beam design with a shielded connector means you'll have the most visibility possible in bad weather. The tension spring arcing technology makes sure the blades have a custom fit against the glass. There's also a spoiler so the downward force pushes along the entire blade to effectively move rain and snow off the windshield surface
| Price | Effectiveness | Quietness | Performance Lifespan | Ease of Installation |
| --- | --- | --- | --- | --- |
| $20 | | | | |
Pros
Dual-lining with a beam design
Fit the windshield snugly
Long-lasting performance
Cons
More expensive for a pair
Sometimes they streak in the cold
Doesn't fit all kinds of cars
Rain-X 5079280

Features
Rain-X wiper blades are the ultimate in contoured design. They hug the curve of your windshield and use even pressure to maximize the whole length of the blade. Rain-X wiper blades are designed to keep you ahead of the weather. These blades have the advantage of using Rain-X water-beading technology along with excellent blades.Each blade is coated with a water repellent that makes the rubber far more effective at removing rain, snow, ice, mud, and insects. This time-released coating enhances the safety of the driver by providing a clear windshield in all kinds of conditions. The blades are constructed to last a long time and to remove the most water with every swipe. By making the most of every swipe, these blades maximize their effectiveness while preventing wear and tear.
| Price | Effectiveness | Quietness | Performance Lifespan | Ease of Installation |
| --- | --- | --- | --- | --- |
| $20 | | | | |
Pros
Includes Rain-X water repellant
Rubber hugs the glass for effective wiping
Super easy installation
Cons
More expensive than some brands
Can be overly complicated
Some customers reported streaking after several uses
ANCO 31-Series

Features
The ANCO 31-Series wiper blades are a base model for someone looking to replace their wiper blades on a budget. They do a good job for the price, which means you'll save money in the long run as well. These blades are rated average to good. Although they're not fancy, they get the job done. They feature DuraKlear, an exclusive rubber compound that promises a streak-free wipe across the windshield.These blades have a vented bridge and are made of high-performance polymer. They're easy to install and keep the windshield clear in most environments. They come in length from 10" to 28". They come with a 1-year manufacturer's warranty.
| Price | Effectiveness | Quietness | Performance Lifespan | Ease of Installation |
| --- | --- | --- | --- | --- |
| $10 to $14 | | | | |
Pros
Universal fit means they should fit all vehicles
Very quiet
They stand up to harsh conditions
Cons
Not as effective on the passenger side
Cheaper blades can be risky
May not fit all cars
Conclusion
Goodyear windshield wipers are just one of many brands of wipers you could choose for your car. They are of overall good quality and they have some nice features that make them very effective. However, if you're looking for the best possible wiper blades for your car, we recommend going with the Bosch brand wipers. They are solidly constructed and built to last. They're flexible, effective, and easy to install. Although you'll pay a little more, they are worth the extra cost.Bosch wipers will keep you seeing clearly for a long time, so they earn 5 Stars.
Both Goodyear and Rain-X have earned 4 stars. The Rain-X blades also include a water repellent, which helps move rain off the glass in bad weather. This is a great safety feature and bumps Rain-X up a little higher than Goodyear when it comes to recommending a product. Finally, the ANCO brand earns 3 Stars. They're inexpensive and a pretty good buy for the money, but some of the reviews are mixed. Whatever brand you ultimately choose, Goodyear windshield wipers are a quality product that's worth considering. They earn a solid 4 Stars overall.