*This post may contain affiliate links. As an Amazon Associate we earn from qualifying purchases.
Do you want to stretch your car's life? If you're thinking about starting to do your own oil changes, you'll need to buy oil and oil filters to do so. A FRAM oil filter may well be what you're looking for if this is the case. If your car is new and you want it to last as long as possible, or even if it's not new and you're trying to ensure it keeps going for as long as you need, then you need regular oil changes. Oil gets dirty, and that dirt can damage your engine. Clean oil is necessary for maintaining your car.
There's just one problem: Once your car is out of warranty, you either have to pay out the nose for a simple oil change, or you have to risk having someone completely incompetent perform the change, which will harm your car. If you're looking to save money on oil changes, a FRAM oil filter can help you do that.
What is a FRAM Oil Filter?
[amazon fields="B000C33MI2″ value="thumb" image_size="large" image_align="center" image="2″]
FRAM is a brand that's well known for various auto parts, including air filters and oil filters. FRAM has several different types of oil filters that fit most cars, trucks, and SUVs. They work with the oil that you already use, whether that's standard oil, fully synthetic, or a blend.
History of FRAM
Eighty-five years ago, oil filters were difficult to install and maintain. Because of that, two men, Frederick Franklin and T. Edward Aldham, created an oil filter that was easily replaceable. The company's name, FRAM, comes from combining their two last names. A mere six years later, Studebaker, Ford, Mercury, Lincoln, and Cadillac had made FRAM oil filters standard equipment on their cars.
By 1950, FRAM produced oil filters, air filters, water filters, gasoline filters and even crankcase ventilators. The company continued to grow, opening a new manufacturing plant in Ohio. As time went on, FRAM continued to develop and refine its technology. By 1994, FRAM made up 40 percent of original equipment on heavy-duty diesel engines.
Today, FRAM offers five different types of consumer-grade oil filters and three different heavy-duty commercial oil filters, in addition to their many other types of filters. Their filters fit just about every make and model of vehicle out there.
FRAM Oil Filter Performance Levels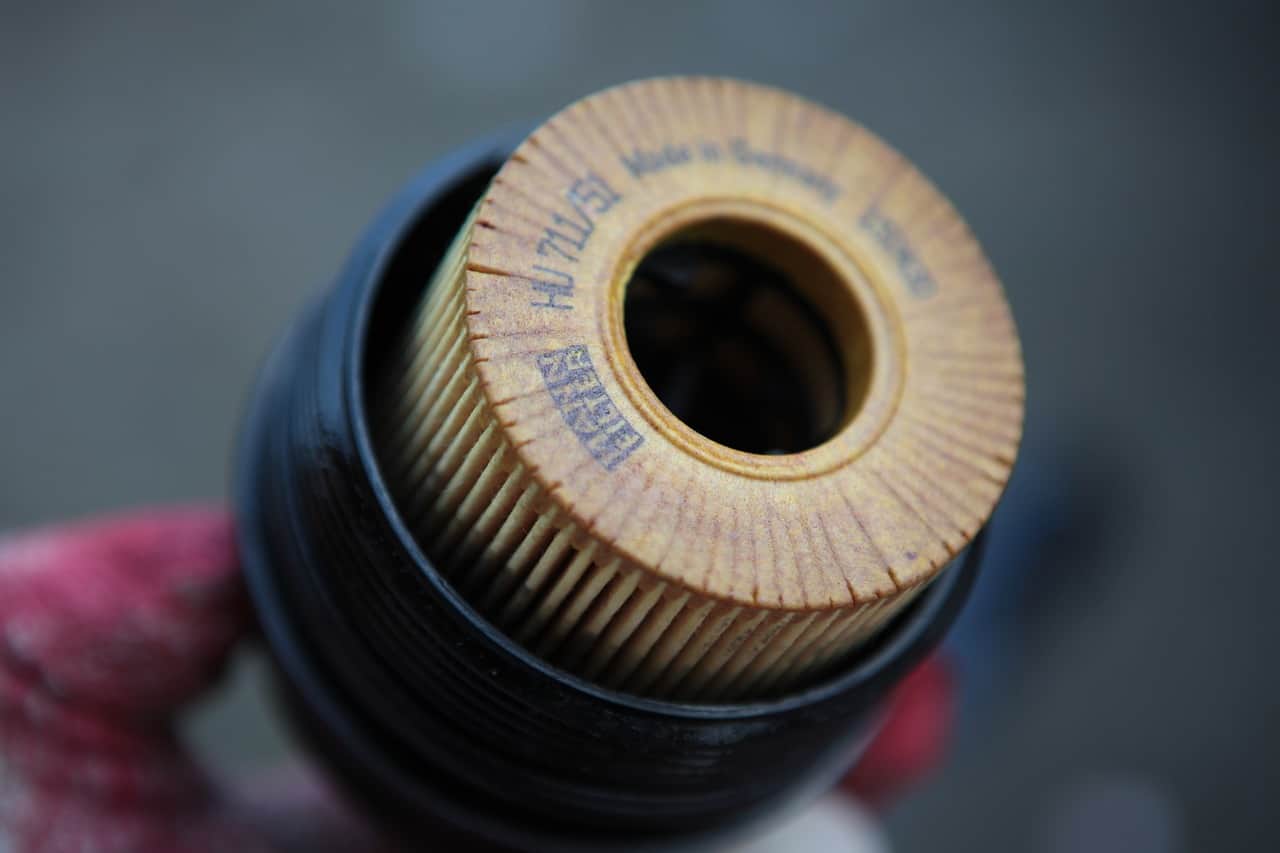 Image from Pixabay
FRAM has four consumer-grade oil filters: Extra Guard, Tough Guard, Ultra Synthetic, High Mileage. The primary difference between the first three seems to be how long they allow you to go between oil changes. With the Extra Guard, you need to change your oil about every 5,000 miles. If you're using the Tough Guard filter, you should be able to go 10,000 miles between oil changes. The Ultra Synthetic filter should protect your engine for up to 15,000 miles, provided you use full synthetic oil with it.
If you want to use the high mileage filter, you have to keep in mind that it's designed for cars that have at least 75,000 miles on them, and not for driving long distances regularly (at least, not if the vehicle is newer). You will need to change it every 5,000 miles, like the Extra Guard filter.
What is a FRAM Oil Filter Made Of?
A combination of materials makes up a whole oil filter. FRAM's filters have a metal base plate, an anti-drain back valve, the pleated filter itself, a metal bypass valve, and then the canister itself. The Extra Guard and the High Mileage filters both have what are essentially cardboard endcaps on the pleated filters, which are identical and made of a blend of cellulose and glass. The only difference between these two filters is the fact that the High Mileage filter has a little cartridge with additives that go into your oil as it passes through the filter.
The Tough Guard filter is made from a fully synthetic material, rather than glass and cellulose. Other than that, it's pretty much the same as the previous two filters, including the cardboard end caps. The Ultra Synthetic filter has a far higher-quality, dual-layered synthetic material. Its endcaps are metal, rather than cardboard, and it's got a metallic mesh that supports the filter material.
The Extra Guard and High Mileage filters also come with anti-drain back valves made of nitrile rubber. The Tough Guard and Ultra Synthetic filters have silicone valves, which makes them more durable in extreme temperatures. The bypass valves are made of sheet metal and are identical, as are the cans that hold the entire filter together.
How Much Does a FRAM Oil Filter Cost?
You can buy a FRAM oil filter for a reasonably low price, particularly when compared to other filters. The pricing makes them popular, especially with do-it-yourselfers who are already trying to save money by doing oil changes themselves.
General pricing
How much can you expect to pay for a FRAM oil filter? There's a variety of factors, including the type of filter you want to buy. Extra Guard filters run from $4 to $25. Tough Guard filters cost between $6 and $16. Ultra Synthetic filters cost between $9 and $11, and the High Mileage oil filters cost between $8 and $21.
How We Reviewed
We gathered this information from FRAM's website, as well as the websites of auto parts stores including Pep Boys, AutoZone, Advance Auto Parts, and O'Reilly. We also used car review sites like MyCarNeedsThis.com and Axleadvisor.com. Finally, we went through customer reviews on Amazon to find out what people think about FRAM oil filters and other oil filters.
How do FRAM Oil Filters Compare to Others?
These filters are nice and cheap for most makes and models, but is this a case of, "You get what you pay for?" How does a FRAM oil filter compare to other brands of filters?
[amazon link="B003L2XPBK" title="Royal Purple 20-253 Oil Filter" /]
[amazon box="B003L2XPBK"]
These filters are specifically designed for high performance. The filter material itself is synthetic micro glass, with a silicone anti-drain back valve and a thick shell. It's exceptionally durable and resistant to high pressure and extreme temperatures. It also boasts much finer fibers inside the filter pleats, making it able to filter out tiny particles when compared to other filter brands.
According to Amazon, the cheapest Royal Purple filter has 4.7 out of 5 stars. Customers are pleased with its durability and its ability to keep their oil cleaner for longer. The chief complaint seems to be that some people get filters that don't fit their cars.
By contrast, the cheapest FRAM oil filter has 4.3 out of 5 stars. People like their performance as well, and they cost less than 1/3rd of the price of a Royal Purple filter. However, they have a much higher rate of 1-star reviews. Customers' chief complaints center around the quality of the filter more than merely receiving the wrong size for their car.
[amazon link="B004D5LAFC" title="Mobil 1 M1-206″ /]
[amazon box="B004D5LAFC"]
Mobil has an advantage that many other companies don't have, and that's their brand recognition. Consumers, professionals, and even NASCAR racing teams use Mobil oil filters and other products. Mobil oil filters are lightweight but extremely durable, meant to withstand high pressure and high heat. The synthetic material that makes up the filter screens out very tiny particles with near perfect efficiency. There's a reason that Mobil oil filters are among the most popular on the market.
Customers on Amazon give Mobil's cheapest oil filter 4.6 out of 5 stars, compared to FRAM's 4.3 stars. They appreciate the way that Mobil's filters work with synthetic oils, and how the filters help enhance their engines' performance. The primary complaint about these filters is that, for some vehicles, they're hard to install and remove by hand.
[amazon link="B000C6OLPW" title="Purolator L24651 " /]
[amazon box="B000C6OLPW"]
Another popular brand of oil filters is Purolator. They make a wide variety of oil filters with different performance levels, similar to FRAM. Purolator filters are designed to help your car perform to the manufacturer's original standards. Or, to put it another way, these filters work best with your everyday commute and errands. They also work very well with conventional oils, while the two filters above work best with synthetic oil. Furthermore, unlike FRAM's cheapest oil filter, Purolator's least expensive filter comes with metal end caps, making it more durable.
People who have bought this oil filter through Amazon rave about the quality they get with such a low-priced filter. This particular filter doesn't have as many reviews as FRAM or the two brands above, but Amazon's customers give it 4.9 out of 5 stars.
[amazon link="B002EBSLA4″ title="Bosch 3330 Premium" /]
[amazon box="B002EBSLA4″]
You may or may not be as aware of this brand as you are of the brands above even though Bosch manufactures every engine maintenance component you could ever need. These filters have an aluminum canister and a steel base plate, which makes them resistant to very high temperatures. That, in turn, makes them easier to remove when you need to change them.
Amazon customers rate this filter highly because it's an excellent alternative to standard Ford OEM oil filters. People also like it for its durability and longevity; it can keep your oil clean well past 5,000 miles. If you drive long distances regularly, this is a definite plus. Some FRAM oil filters give you similar longevity, but their cheapest — the Extra Guard — only go for 5,000 miles with cheap manufacturing. People complain that the aluminum canister seems flimsy, even though it's supposed to withstand high heat. A few people mention having trouble removing it from their cars because it wants to bend. Others discuss problems with the way the filter seals — or doesn't — on their vehicles. Despite that, Bosch's cheapest filter has 4.6 out of 5-stars on Amazon, compared to FRAM's 4.3 stars.
[amazon box= "B003L2XPBK,B004D5LAFC,B000C6OLPW,B002EBSLA4," template="table"]
Our Ruling
A FRAM oil filter is your best bet if you're most concerned about costs. These oil filters are decent quality, particularly for how cheap they are. However, if you're looking for a better, more durable filter and the cost isn't your primary concern, then you don't want a FRAM oil filter. There are superior filters out there. To put it bluntly, FRAM oil filters can be considered "budget" filters.
We give them 3 out of 5 stars.