*This post may contain affiliate links. As an Amazon Associate we earn from qualifying purchases.
With a jump starter in your trunk, you'll drive to your destination with great peace of mind. And with a reliable product, you can always jump it all by yourself if your car goes kaput mid-way. An EverStart jump starter might be the product for you.
Jump starting your car in the morning when you've been late twice this week is extremely frustrating. In times like these, you'll wish you had a jump starter to give your vehicle the juice it needs to roar to life (at least for a few more hours). We'll look at which jump starter can give you peace of mind.
What Is an EverStart Jump Starter and How Do You Use It?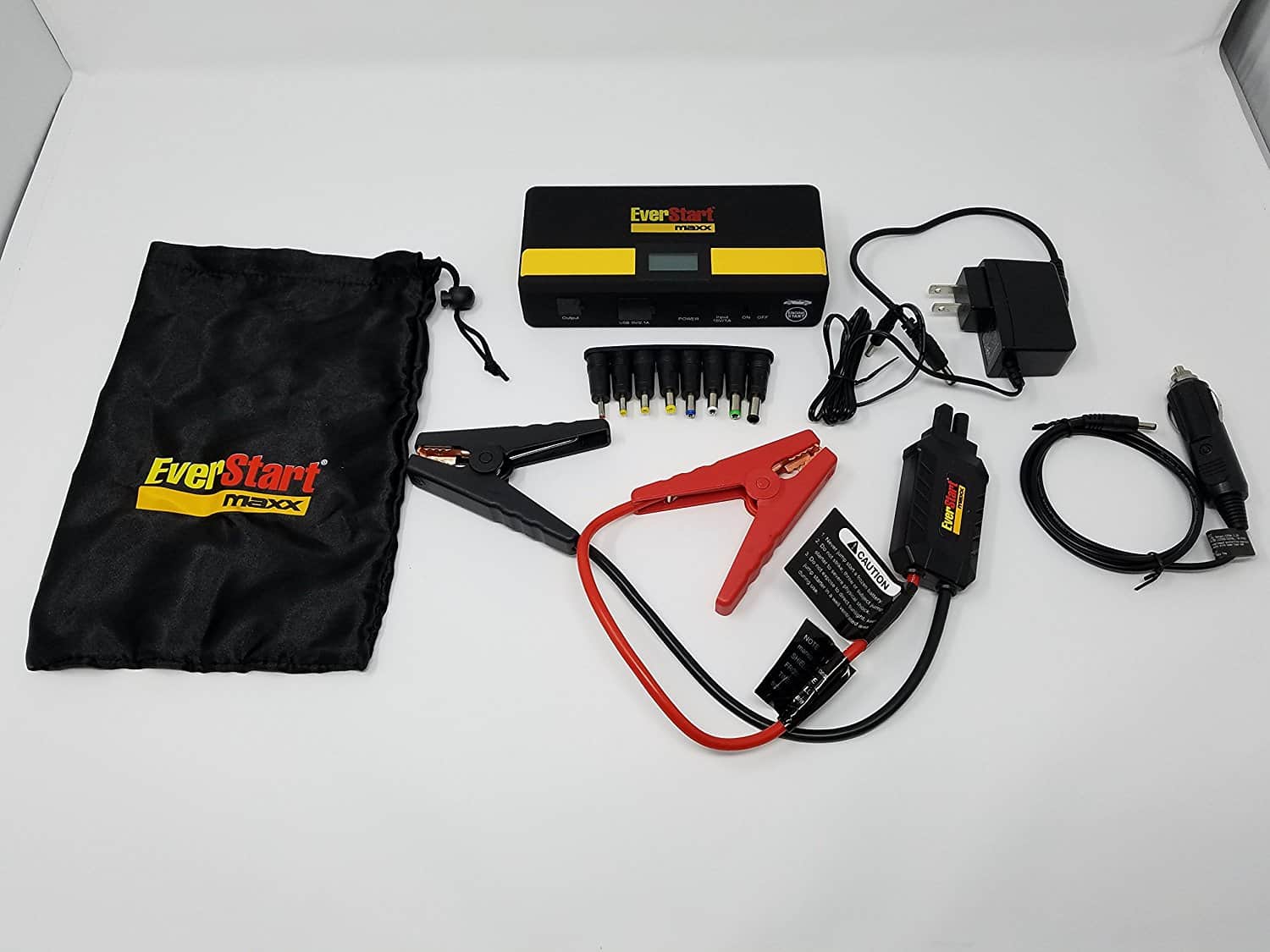 According to the AAA, 4 out of 10 drivers are ill-prepared for a roadside breakdown. Don't be a statistic. Break the mold and invest in a quality jump starter, so you're always ready to tackle a dead battery. An EverStart jump starter does more than get you and your car out of a sticky situation. It can also charge your other technology, and power small electronics such as an air pump or lamp.
Jumping a battery is a straightforward process. First off, you'll have to find where your battery is. Most car batteries are under the hood. However, batteries in some older models are in the trunk. Before starting, make sure nothing in the car is on. To be sure, keep the keys out of the ignition. Place the jump starter close to the battery and expose the battery's terminals.
With the EverStart jump starter in its off position, connect the red jumper cable to the battery's positive terminal. Connect the black jumper cable to the negative terminal. Once both cables are secure, turn the EverStart jump starter into the on position. Once on, go inside your car and turn the ignition. Should the charger be at full capacity and the problem with the battery, your car should now start. If it does not work after five seconds of turning the key, stop. The battery may not be the problem, and you should seek the advice of a trained professional. Either call a tow truck or find another method of transportation and see a mechanic as soon as you can.
Makes, models, and prices
There is more than one EverStart jump starter available which differ mostly in power. We'll go through each one so you can choose which one best suits your needs.
[amazon box="B076PH85FP"]
EverStart's smallest, most cost-effective, and perhaps the most popular model is the 6811A Smart Charger & Maintainer. This little charger fits in the palm of your hand, making it incredibly easy to transport. It boasts a digital display, 3 amps of power, and costs $18 to $36. It's available online as well as in stores.
There are two 5-star reviews on Amazon and 35 reviews on Walmart's website for a total of 3.0 stars out of 5. Customer reviews on Walmart love how small, and transportable this jump starter is. That, coupled with its low price, makes it an easy buy for those looking for a quick boost. However, 15 customers who rated the jump starter 3 stars or below complain of faulty readings and error codes showing on the display.
[amazon box="B071NZZB7G"]
EverStart sells two 750 amp jump starters. The first is a jump starter and compressor combo, which costs $40 to $45. It includes a 12V power outlet, USB port, 200-watt built-in inverter, an LED battery-status display, and an LED work light. This discontinued jump starter isn't in most stores, so you might have some trouble finding a new one. It's important to note that Everstart also sells replacement parts for their jump starters. Replacement parts include EverStart alligator clips and four-gauge replacement cable.
Walmart reviews reveal a less-than-ideal experience with this EverStart jump starter, giving it just 2.5 out of 5 stars. Most protested that the jump starter did not work after a single use and that there shouldn't be ratings for the 120 PSI air compressor. Three Amazon reviewers also rated the product at 1.0 out of 5 stars, stating that the charger is completely unreliable.
[amazon box="B07K25NQMS"]
The next product is Everstart's 750 amp jump starter and digital air compressor, which costs $35 to $56.44  It's smaller and lays flat instead of standing up straight like the previous model. It delivers a minimum of 375 amps and a maximum of 750. This model also includes a 120 PSI air compressor, and two 2.1 Amp USB charging ports to power small electronics. Both 750 Amp jump starters are mostly available as refurbished products on eBay and Amazon.
Reviews for EverStart's second 750-amp jump starter are not much better than the first 750-amp starter. Ten customers who purchased this product gave it a 1-star rating on Walmart's website. Most complained that it didn't come with a charging cable, which is necessary to recharge the device. But the strangest complaint across the board was that the jump starter kept on beeping whether it was on or off. There are no reviews for this product on Amazon.
[amazon box="B079JK96MQ"]
The most powerful EverStart jump starter is their 1,200-amp starter with a built-in power inverter and inflator. This model costs $80 to $120, depending on where you buy them. Its powerful 12V DC outlet is strong enough to power devices such as radios and small televisions. It also comes with a low- and over-voltage alarm as well as a wrong connection alarm, so your devices are always protected. This 1200-amp version is available on Amazon and Walmart.
Everstar's 1200-amp jump starter has a total of 2.0 stars out of 5 on Walmart's site, while on Amazon, it's rated 3.0 out of 5 stars. Most buyers complained that the product stopped charging after only one year of use. Others gave the EverStart jump starter a decent rating but expressed concern with long charging times (20 to 24 hours) and quick depletion time (24 to 48 hours).
How We Reviewed Comparable Brands
No review would be complete without comparing one brand to its competitor. We've researched a couple of brands so you can make an educated decision on which jump starter you'd rather buy. We also consulted product specifications and customer reviews to get a good sense of brand satisfaction.
[amazon box="B015TKUPIC"]
The NOCO Genius Boost is a powerful portable car charger available in a variety of amperage. NOCO sells five versions of their jump starters: the GB20, GB40, GB70, GB150, and GB500. Most of their products have stellar reviews on the manufacturer's website as well as Amazon. The GB40, for example, delivers 1,000 amps of power to jump start a drained battery and has enough power to start 20 batteries on a single charge. It's also waterproof, can charge multiple devices at a time, and light your way thanks to its 100-lumen LED flashlight.
Price point and where to find it
When it comes to pricing, the NOCO is generally more expensive than any Everstart jump starter. The least expensive GB20, a device capable of delivering 400 amps, retails for $60 to $100 depending on the seller, and rates at 3.0 out of 5 stars at Walmart. Their GB40 (1,000 amps) costs $99.93 to $170 and rates 4.0 out of 5 stars on Amazon. The more power you need, the more it will cost you. NoCo offers two more models: The 4,000 amp GB150 and their most powerful model: the 20,000 amp GB500. The NoCo Genius GB150 will set customers back anywhere between $295 to $500, while the GB150 costs $2,500 to $3,000.
Finding NoCo Genius jump starters are easier than finding EversStart-branded models. They are available at most big-box stores such as Walmart, as well as outdoor/hobby stores such as Bass Pro Shops, AutoZone, and Camping World. You can also purchase them online on Amazon.
Pros and cons
Taking a broad look at customer feedback, all 5 models are found on Amazon and have a combined total of close to 2,900 customer reviews, with an average rating of 4.2 out of 5 stars. Most customers praise the starter for its effectiveness even though they used this booster at work on a daily basis. Many customers also used the NoCo Genius Boost on large trailers and forklifts with no problems. Despite some issues regarding typical lithium battery problems including expanding and swelling, most customers had their units replaced by the manufacturer if it was within the one year warranty.
Pros
Reliable
Very powerful
Small and compact
Cons
More expensive
Plagued by common lithium battery problems
Schumacher Jump Starters
Schumacher has several jump starter makes and models varying in strength and price. Like EverStart jump starters, we'll go through each one to see how it stacks up.
Schumacher 12-Volt Battery Extender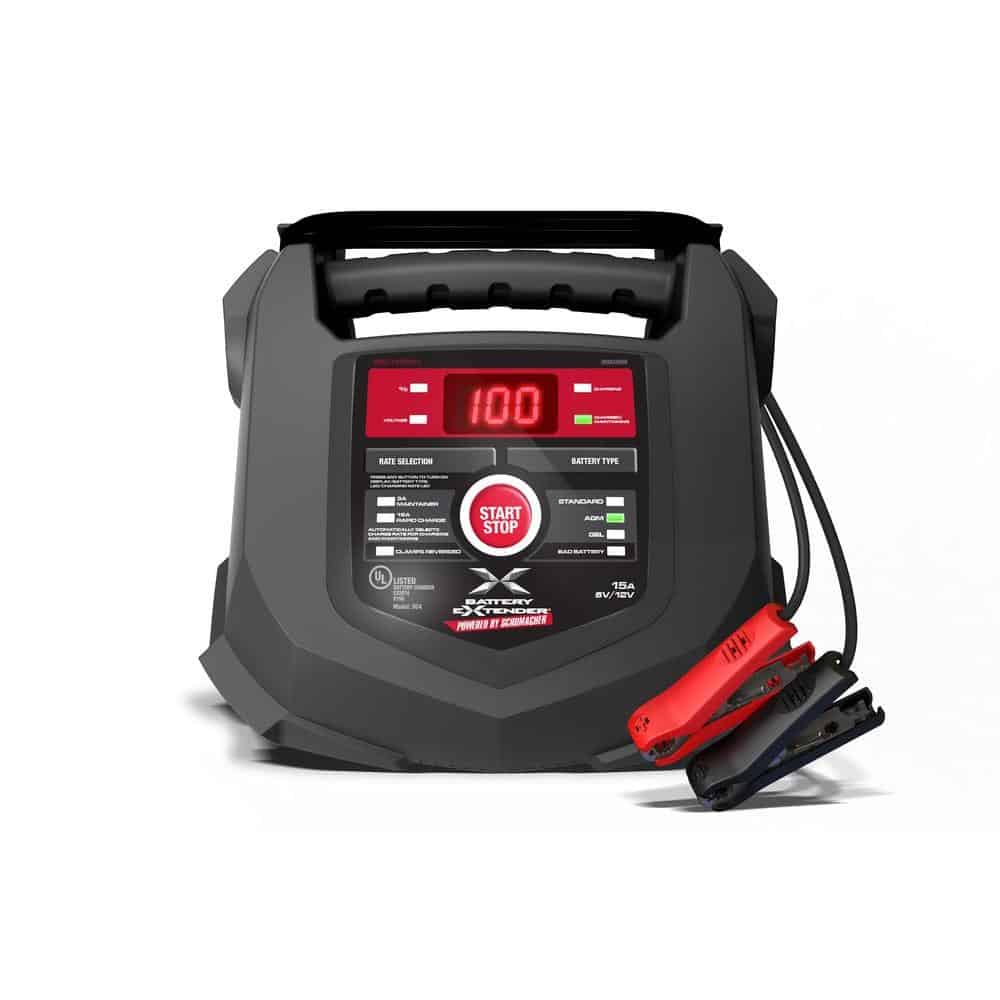 Customer reviews for Schumacher jump starters are a pretty mixed bag. The 12 Volt 400 Amp Jump Starter (their most inexpensive starter) has a total of 13 reviews on the Home Depot's website. For such a bargain booster, the reviews aren't all bad. Most of the 5-star ratings say that the product worked as advertised. The reviews with fewer stars have less to do with a lousy product and more with a bad choice. For instance, one buyer wished they purchased the model with a USB port while the other stated it didn't work for his car model.
$40 to $60 
Their smallest model is the Schumacher Battery Extender 12-Volt which outputs 400 amps. Designed to jump-start vehicles with four- and six-cylinder engines, it boasts a safeguard alarm which will sound if the clamps aren't in the proper place. Overall, Schumacher models are slightly more expensive than an EverStart jump starter but more cost-effective than NoCo's Genius boosters. This 12-volt 400 amp starter costs $40 to $60 and is available in most stores.
[amazon box="B0756QSKDP"]
The next tier up features the same number of volts but with a higher output of 750 amps. This version has 2 USB ports, a built-in 150 PSI air compressor, a 12-volt power outlet, as well as an LED light. It costs $91.19 to $125 and is available in-store as well as online on Amazon.
While there are no reviews on Amazon, there are 69 reviews on Home Depot's website for this model for a total of 3.0 stars out of 5. Some customers complain that the booster did not work after over 24 hours of charging. Others state that it was the perfect gift for their elderly parents, as it's a very straightforward and easy to use booster.
[amazon box="B01LXLKH3K"]
The third model, which looks aesthetically similar to the previous 2, is a 12-volt, 1,200-amp jump starter. This booster is powerful enough to start four, six, and eight-cylinder vehicles. This model offers a slew of extras including a digital display, a 12-volt DC power outlet, 4 USB ports, a 100 PSI air compressor, and a built-in LED light. Depending on where you buy it, this jumper costs $85 to $125. Like other Schumacher products, it's available in hardware stores including The Home Depot as well as online on Amazon.
Amazon buyers rated this jump starter 5.0 stars out of 5 while customers at Home Depot were slightly more conservative, giving it 4.5 stars out of 5. Most customers raved how this booster has plenty of juice to jump their cars and even power their computer in the middle of nowhere. According to happy customers, this unit is sturdy, user-friendly, and reliable.
ProSeries Battery-powered Schumacher jump starters
Schumacher also sells another line of jump starters dubbed the "ProSeries." There are two kinds of jump starters within this line: battery-powered starters and "battery-less" boosters. Their ProSeries line is slightly more expensive than the non-ProSeries Schumacher jump starters.
[amazon box="B0756QSKDN"]
The first Schumacher ProSeries jump starter powered by a 12-volt battery has an output of 1,800 amps. This jump starter features a 12-volt power outlet and an LED battery status indicator. The Schumacher ProSeries 12-volt 1,800 battery-powered jump starter costs $122.45 to $220 depending on the seller. Like other Schumacher products, customers can find it in the auto section at The Home Depot or on Amazon.
Surprisingly, there are no reviews for this product on The Home Depot's website. But 4 customers rated this ProSeries jump starter on Amazon for a total of 3.1 stars out of 5. Two customers gave this item 1 star, complaining that Schumacher Electric (the manufacturer) did not "stand by their faulty products." While a little worrisome, other buyers love how much power is packed into this compact package and rave about its dependability.
[amazon box="B0756QKZPK"]
The ProSeries 12-volt jump starter, which boasts 2,200 amps, is the next most powerful booster. Included in this compact package are a 2.1 amp USB port, a 12-volt outlet, a reverse connection warning feature, and a fully digital display. Depending on whether or not you use it, it will cost anywhere between $162.55 to $320.
The Home Depot does not have any reviews on this product. However, Amazon customers gave this product 3.8 stars out of 5. Despite being on the heavier side (almost 20 lbs), customers praise the 2,200 amp jump starter for its durability and high quality. Its only downside is its unique charger cable, which customers must buy separately.
ProSeries Lithium-ion Schumacher jump starters
The "battery-less" jump starters use a battery. But unlike their other models, they use an ultracapacitor paired with a lithium-ion battery, making it much smaller and lightweight. They have two models, coming in 450-amp and 800-amp versions.
[amazon box="B01NAD97MJ"]
The smallest is their 450-amp Ultracapacitor Jump Starter, a product which boasts a 10-year lifespan, a built-in voltmeter, and short circuit protection. This 450-amp ultracapacitor series costs $167.12 to $220 depending on the retailer.
Sadly, we are unable to truly rate this product as there are not many reviews available online. There is only one review on Amazon. The review rates this product 1.0 star out of 5, complaining of a faulty LED light and being unable to obtain a full charge.
[amazon box="B01MZZD2YB"]
The more powerful lithium-ion powered Schumacher jump starter pumps out 800 amps and includes protection against short-circuiting and reverse polarity. Because of its higher output, this version costs slightly more than the 450-amp. It is available on Amazon and in big-box stores for $192.76 to $280.
The battery-less Schumacher DSR109 800 Amp has 4.0 stars out of 5 on Amazon. One customer states that the Schumacher performs better in cold weather conditions than their NoCo Genius, which would drain its battery when the temperatures dipped. While some buyers complained about the unit not working at all, most of them were very pleased with their purchase.
Pros
Reliable and durable
Reliable even in cold weather
Cons
Heavy
More expensive than EverStart
Unique charging cord not included
Which One Should You Buy?
Sadly, none of EverStart's jump starters seem to stack up against its competitors. While they are an inexpensive alternative, the cost will always be too high if it is unreliable when you need it most. If you live in warm weather climate and don't mind shelling out the big bucks for a quality jumper, we would recommend the NoCo Genius. It's compact, reliable, and has enough power to jump several vehicles in one charge.
However, we would push Schumacher's higher-end jump starters for people living in harsh winter climates. Schumacher's battery-powered ProSeries jumper packs are durable, affordable, and will perform in the extreme cold.